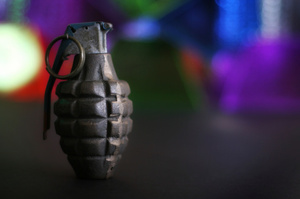 The discovery of a hand grenade on the side of the road prompted the evacuation of homes in the Gisborne suburb of Kaiti this morning.
A man walking home found the grenade inside a box in the gutter on Ida Rd. He took the box to the front gate of his home in Huxley Rd and alerted police about 5.45am.
Police cordoned off the area, got advice from a bomb disposal expert and evacuated homes in the "immediate vicinity as a precaution", Senior Sergeant Lincoln Sycamore said.
"On the advice of the bomb squad we placed the box, with the grenade inside, inside a metal ammunition tin. We took the box to a secure area at the rear of the man's property."
Police remained at the property all morning.
"A bomb disposal expert from the miltary is on his way to Gisborne to examine it," Mr Sycamore said.
The expert was due in the city early this afternoon.
The cordon around the immediate area where the grenade was secured was to remain in place until the all-clear was given.