Success downtown bodes well for the next three stations on the city link, writes Anthony Flannery.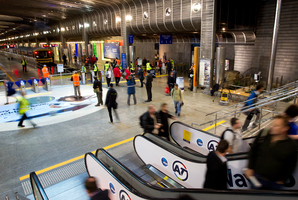 Ride the Britomart Rail Station escalator down to the train platforms and look to your right or left as you descend. Against the station walls are two rows of gardens. They exist to conceal a possibility. A possibility that is symbolic of Auckland's ambition to be a top 21st-century world city.
The gardens occupy the space where the rail tracks of the proposed City Rail Link (CRL) will one day take trains under QEII Square and travel some 3.4km underground to the western rail line in Mt Eden - and thereby complete the next step in Auckland's start-stop journey to build a modern commuter rail network.
Someone with vision, long before Mayor Len Brown articulated the prospect of Auckland becoming the "the world's most liveable city", ensured that the Britomart Rail Station was "future-proofed" - capable of becoming a through station with the potential to lift the maximum capacity of the existing dead-end station of around 20 trains per hour to almost double. This practical foresight reinforces my passionate belief that Auckland's destiny is unstoppable.
Auckland will become one of the world's great cities - the only question is how long it will take - and my primary concern is our frustratingly slow speed of progress towards that ultimate destiny.
The Britomart Rail Station was opened 10 years ago on July 7. It quickly became branded as a catalyst for the Britomart transformation project and an attractor for tenants to the precinct. The civic wisdom of the investment is patently obvious to anybody visiting the Britomart Precinct, but on the timetable the next step in the journey to give Auckland a commuter rail network worthy of a mature world city in the making won't be completed until 2021 - that is, if the date the Auckland Plan has for the completion for the CRL project prevails.
Auckland continues to present an image of a city maturing through adolescence. It is surely time for us to embrace the challenge of adulthood. We have to find ways to pick up the pace on delivering this and other visionary and transformative urban projects that Auckland has on its books; projects which are critical to making the city stand out as a uniquely liveable and lively global magnet.
Ten years ago Britomart was a place to avoid, unless you had to catch a bus. Now, depending on who your friends are, Britomart can be never-ending, a part of a city that never sleeps. Offices and shops; street art, culture, markets, music, sophisticated daytime cafes and a vibrant nightlife of pubs and restaurants inter-mix with big and small businesses and apartment living - the archetypal multi-layers of complexity that you would expect to find in any modern, thriving international city.
In great cities, strategic infrastructure investments such as rail and street networks are leaders and catalysts of urban development. Like mine, numerous businesses, including multinationals and head offices of New Zealand-wide firms, have moved to Britomart because we see the area as an exciting, attractive, walkable, learning, living, working environment; a pioneer example of what a future Auckland could and should be.
Without the proximity of public transport options, rail virtually under my office, as well as buses and ferries some 50m away, the squeezing of diverse and energetic activity into an area over three to four city blocks would not be possible.
And that's why I am taking time to celebrate the Britomart rail station's 10th birthday. Not because I am a dedicated railway enthusiast, but because what the Britomart railway station has come to symbolise - and to help create.
Three more rail stations are planned along the route rail will follow between Britomart and Mt Eden - Aotea Station under Albert St between Victoria and Wellesley St, Karangahape Rd Station below Pitt St and K Rd, and Newton Station at the junction of Mt Eden and New North Rds and Symonds St. Each station creates an exciting urban-regeneration project opportunity in central Auckland that is equally as prosperous, vibrant, but uniquely diverse as Britomart and where everyone, if it is done right, will want to be part of.
Most people will celebrate Britomart's 10th birthday for the more convenient public transport options it has provided Auckland commuters. The number of people commuting regularly by train to Britomart each morning has climbed from around 1000 in 2004 to more than 6000 today.
But equally deserving of a toast is the productivity and lifestyle stimulation that the station's presence has given to the Britomart urban regeneration project and the symbolic platform this has set in Auckland's quest to be a top world city in every sense.
For Auckland to get mentioned in the same breath as proven successfully transformed world cities with strong rail-based passenger services in my working life-time, we must resolve to ensure that at Britomart's 20th birthday we are also celebrating completion of the whole CRL development. If that means going faster, let's find a way to do so.
Anthony Flannery is director of Reimagine, a firm specialising in transformation design.