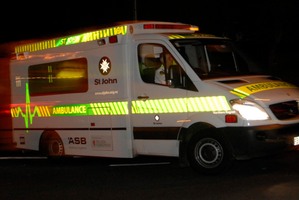 Four cyclists were injured, one critically, when a car collided with a large group of them in Hamilton yesterday.
Between 11 and 14 cyclists were riding in a bunch on Puketaha Road on the outskirts of the city when the incident happened about 6.20pm, Senior Sergeant Dave Litton of Hamilton police said.
Three cyclists were taken to Waikato Hospital with moderate injuries and a fourth man with critical injuries.
The crash could have been a great deal worse given the 100km/h speed limit and the number of cyclists in this group, Mr Litton said.
"It appears that the driver has simply not seen all of the cyclists when overtaking them and pulled back into the group.
"Lack of visibility, along with the driver not allowing sufficient space to perform the overtaking have both played a part in this collision."
Police asked drivers that when performing an overtaking manoeuvre to ensure there was at least 1.5 metres between their vehicle and any cyclist.
With shorter hours of daylight, cyclists should also ensure they made themselves as visible as possible to other road users with adequate front and rear lighting and reflective clothing, Mr Litton said.
- APNZ