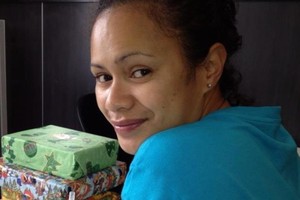 Police are seeking the personal effects of Northland woman Barbara Moka.
A homicide inquiry was launched after the body of a woman, believed to be 32-year-old Barbara Moka, was found in the Omanaia area near Rawene yesterday afternoon.
The body was discovered near Te Piiti Marae where Ms Moka was last seen more than two weeks ago at a tangi.
Police have asked for help from the public in finding some of Ms Moka's missing belongings.
Those items included an older style Nokia cellphone, coloured grey and black, a ladies wallet and clothing.
Police were also interested in the movements of two vehicles on June 9 and June 10.
One of the vehicles was described as a 1997 two-door red Toyota Cynos saloon, registration CBH261.
The other was a 1990 green and grey 4WD Nissan Terrano, registration TF2603.
Police stressed that the usual occupants of those vehicles were not suspects in the inquiry.
A post-mortem examination on the body was being carried out in Auckland today, police said.
Detective Senior Sergeant Rhys Johnston said police had spoken to a number of people who attended the tangi on June 8 and asked that anyone to come forward if they had not yet been spoken to.
Scene examinations were continuing and yesterday uniformed police, detectives and forensic specialists focused on an area around a gravel driveway off Omanaia Rd, South Hokianga, about 100m from Te Piiti Marae.
An earlier search last Thursday focused on a bush track a further 100m from the marae.
Police had been told Ms Moka crashed her car there about 1am on June 9 as she and her partner were heading home.
Yesterday's discovery came less than 30 minutes before a man appeared in Kaikohe District Court in relation to the case.
His name, the charge he was facing and all other details surrounding his court appearance were suppressed.
No application for bail was made but lawyer Catherine Cull asked for interim name suppression because the investigation was ``at a crucial stage''.
Judge Keith de Ridder issued a sweeping suppression order, barring publication of the man's name and all other details until his next appearance. The man was remanded in custody until next month.
Ms Moka, a mother of four, worked at the Copthorne Hotel in Omapere as a receptionist.
She moved to Rawene last year from Auckland, where many of her whanau live. Her children, aged 7 to 15, did not live with her.
- APNZ