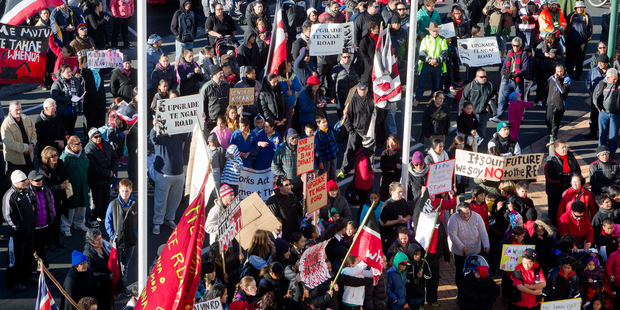 Rotorua's mayor has promised to support local Maori unhappy with the Rotorua Eastern Arterial roading project after more than 250 people marched on the council in a peaceful protest.
Hundreds of people, young and old, Maori and Pakeha, joined the hikoi yesterday organised by members of the Positive Rotorua Environmental Society, which coincided with a meeting of the Rotorua District Council's Te Arawa Standing Committee.
The colourful procession marched from Ngati Hurunga Te Rangi Marae, down Te Ngae Rd, finishing at the council building where they were welcomed by the council's kaupapa Maori director Mauriora Kingi.
Chants including "we don't want your motorway - shove it up your REA" were heard as people marched down Hinemaru St.
Opposition to the proposed Rotorua Eastern Arterial (REA) has grown rapidly since the New Zealand Transport Agency (NZTA) announced its preferred route in April. Construction is scheduled for 2020-2025.
The new road would run from the airport to Sala St, cutting through a Maori reservation and could cost up to $90 million. Local politicians say the road is essential for the city's future economy. In July 2011 a majority of councillors voted to recommend the route to the NZTA as the council's preferred option. Three councillors - Charles Sturt, Merepeka Raukawa-Tait and Maureen Waaka - voted against it.
Te Arawa Standing Committee has never supported the preferred route.
Representatives of Te Arawa hapu Ngati Hurunga Te Rangi, Ngati Te Roro o Te Rangi and Ngati Uenukukopako yesterday presented their preferred option - the upgrade of Te Ngae Rd - to committee members. Hapu representatives George Mutu, Piwiki Heke and Brownie Pirika put forward their views saying if any road were to be built it should be an upgrade of Te Ngae Rd.
"A lot of land has been given to the city of Rotorua by our people ... even this place we stand on ... open your ears to that.
"We are appealing to you ... this will not go away, this is just the start," Mr Pirika said.
Rotorua Mayor Kevin Winters said he would advocate for the hapu but needed to better understand their concerns.
He offered to walk along the proposed route with hapu representatives. "I have heard in your voices genuine concern ... But I want to say to you that this road is not a Rotorua District Council road, it is a NZTA road. They made the call that this was their preferred route.
"What I am prepared to do is join your hikoi and walk the entire route so you can show me your concerns.
"At the moment I don't understand them, but I do want to advocate on your behalf," he said.
Former district councillor Bob Martin said he joined the hikoi to show his support for the upgrade of Te Ngae Rd. "I have an uncle buried in the urupa there. I don't blame our whanau, they have not had a fair deal since the 1950s. I honestly believe there is another alternative, just like they upgraded Lake Rd - I think they can do the same on Te Ngae Rd."
Standing committee member Kingi Biddle said it was a proud moment for Te Arawa.
"To have our people come and gather together - it's not a hot day but it's the kaupapa that keeps them warm," he said.
For more articles from this region, go to Rotorua Daily Post