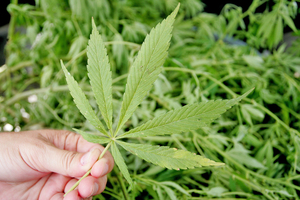 An Israeli couple have been discharged without conviction over a sizeable cannabis cultivation unit found in their Canterbury home.
Daniel Sudri, 26, and Hadas Sudri, 25, appeared before Judge Noel Welsh in Ashburton District Court yesterday where they pleaded guilty to cultivating cannabis.
Judge Welsh discharged the couple without conviction on the basis that they donated $2000 to the Salvation Army before 4pm yesterday.
Ashburton police were called to the couple's Rakaia home on June 12, alerted by a visitor to the property who required medical attention after being overcome by strong fumes.
Inside the home they discovered a growing set-up in a bedroom, with evidence of 54 recently harvested cannabis plants.
In the lounge, police found drying lines where 3.5kg of cannabis head material was suspended. A further 2.8kg of cannabis leaf was uncovered in another room.
Duty solicitor Bevan Coombes said the cannabis was for personal use, and the couple had tickets to leave the country on July 3, having arrived on working visas in March last year.
He said they had studied cannabis cultivation on the internet before setting up the system, and there was no evidence of dealing.