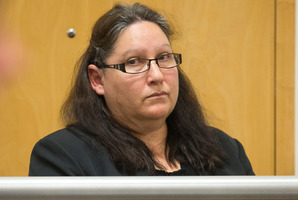 An accounts clerk took advantage of her boss' wife's cancer when she stole more than $370,000 and spent it all on holidays in Australia, a court has been told.
Lynn Hutchens siphoned cash out of the company's accounts with what looked like legitimate invoices for four years.
While the invoices used genuine company names, they contained her bank account details and she blew the lot.
All the 48-year-old has to show for the years of deceit is a $5000 car which she has promised to sell and give the proceeds to her former boss.
Hutchens was jailed for three years when she appeared at the Auckland District Court yesterday after pleading guilty to two charges of false accounting and five of accessing a computer.
John Monk, the director of John Monk Trading, said Hutchens was a trusted member of staff but it wasn't long before she started stealing from the company which imports homeware.
Mr Monk said Hutchens chose to exploit the fact his wife was diagnosed with cancer.
"She saw the vulnerability and she began to take more."
He said the fraud had cost the company more than $800,000 with the company having to call in accountants, lawyers and private detectives. The theft had set the company back five years.
"She left a trail of destruction," Mr Monk said.
Crown prosecutor Sam McMullan described the offending as planned and premeditated. He said the $5000 reparation was only a token compared with the $371,009.94 that Hutchens stole.
Hutchens' lawyer, Raewyn McCausland, said that as well as the car, her client was offering two computers and an iPhone.
Judge Anne Kiernan said when Hutchens admitted the facts, she expressed surprise at the total amount.
She also told police: "I was sick of being poor and I just wanted to buy nice things for once."
But Judge Kiernan said Hutchens had nothing to show for her fraud and had spent the money on trips to Australia to visit her sons.
"You told the probation officer that at first, when you started offending, it was out of financial difficulty but later it was greed and towards the end you were living above your means."
Judge Kiernan said Hutchens had written a letter to say she was "mortified" by the effect on Mr Monk and his family.
In sentencing the judge took into account Hutchens' breach of trust, premeditation, the period of the offending and the "large amount of stolen money".
But Judge Kiernan also took time off the sentence to reflect Hutchens' early guilty plea, the small amount of reparation and her previous good record.
Outside court Mr Monk said he had to lay off some staff as a direct result of Hutchens' offending.
- APNZ