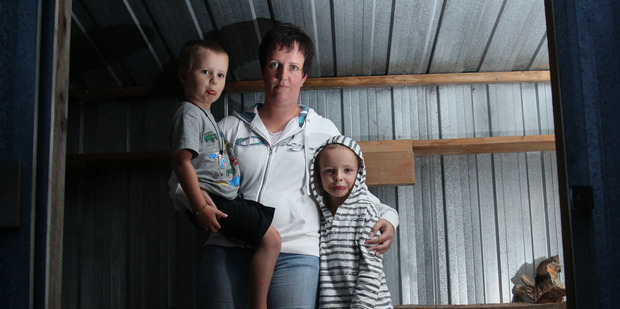 An Ohauiti family with a dying father will have to suffer through winter after their whole supply of firewood was stolen.
The Bay of Plenty Times spoke to the Foster family only hours after they returned from a trip to Fiji and discovered their whole supply of firewood, more than 3 cubic metres, was removed from a shed in their back yard. The trip had been anonymously donated to the family with all expenses paid.
Tori Foster said having no firewood would make life hard for her husband Rob, who is dying of stage 4 bowel cancer and finds it hard to cope with cold weather.
She and her husband both had to give up work when Rob was diagnosed and they can't afford to buy any more wood while living on a sickness benefit.
"We were away in Fiji for seven nights and got back at 3.30pm [yesterday]. We walked into a cold house and decided to light the fire - but the shed was all empty.
We got 5 cubic metres delivered in April and used about a third of the wood and the whole lot has been cleared out."
Mrs Foster said one of the effects of Mr Foster's chemotherapy was he felt the cold much more.
"Even in Fiji he was still wearing a hoodie, it was 30C. We feel absolutely gutted and very annoyed, what a thing to come back to after being in Fiji."
The firewood itself was another generous gift from friends and family to help get the struggling family through winter. Mrs Foster said her mother and neighbour had offered to bring some of their own wood around, but it would not be enough to keep the home warm for the next few months.
"We're on the benefit, it just doesn't cover things like firewood. We need firewood to keep Rob healthy. He's terminal so winter is going to be a big thing to get through. He wasn't expected to make it past Christmas as it is."
Mrs Foster said nothing else on their property had been touched so it was obvious they had been targeted for the wood.
The garden shed it was stored in was left closed but unlocked, as was another shed with bikes and scooters which was left untouched. Their house was also left undisturbed.
The shed is situated right at the back of their fenced section, so it would have taken the thieves a lot of effort to remove all the wood, Mrs Foster said.
For more articles from this region, go to Bay of Plenty Times