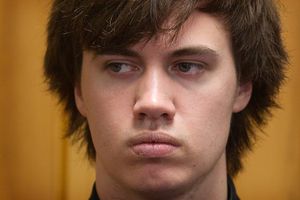 A Rotorua 18-year-old described as an internet troll who assaulted an Australian TV reporter has had his sentencing adjourned today.
Tristan Barker - whose father Michael is a former drummer for Split Enz - appeared in the Rotorua District Court today charged with assault.
His sentencing was adjourned until August 7 as his lawyer is overseas.
Barker admitted assaulting Today Tonight reporter Dave Eccleston in Rotorua in March after the reporter came to New Zealand to interview Barker about his online activity.
Barker has drawn attention in Australia and New Zealand for his online posts, where he appears to have posted material that has upset many people. He has hundreds of thousands of teenage "fans" who read his rants on Facebook and Twitter.
Barker has encouraged the likers of his Facebook page to ridicule people, including murder victims and some who have committed suicide.
For more articles from this region, go to Rotorua Daily Post