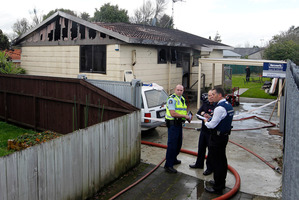 Police are working to identify a person found dead after a house fire in Hamilton today.
Emergency services were called to the Brooklyn Road property in suburban Claudelands about 12.20pm.
"During the course of the firefighters extinguishing the blaze and clearing the scene, the body of a yet to be identified person was discovered. Right now the priority for police is establishing the identity of this person and any other party linked to the address,'' said Detective Senior Sergeant Ross McKay of Hamilton CIB.
The body was discovered in a bedroom.
A firefighter was injured when a ceiling collapsed during the blaze.
He was not seriously injured.
Two men managed to break down a door and rescue two dogs from the house.
Waikato Fire Service area commander Roy Breeze said the two bedroom house was extensively damaged by the blaze.
- APNZ