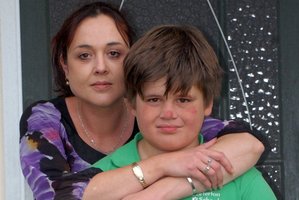 A Carterton schoolboy is still battling his way to recovery after surviving relentless bullying and a schoolyard attempt to escape his tormentors by strangling himself.
Carterton School pupil Raybane Hume-Kinzett, 11, who tried to strangle himself with a skipping rope on his school playing fields in March, was taunted over his eczema and weight.
His mother Sharlee Hume said Raybane had befriended one of six boys who had harangued him and had become more settled and content.
"He's been a lot happier. He's been going to rugby and attending scouts and he's really looking forward to jamboree at the end of the year."
She said there had been two incidents in the past month during which Raybane had lashed out at other pupils.
He had struck a classmate in the face after the boy threw a ball at him, and had headlocked a pair of boys who called him names.
"He got a detention for punching the boy and because he knew he had done wrong, he was happy to do it. They're mates now.
"The second incident involved a member of the public who heard the kids calling him a loser and reported it to the school. But it's not a good thing he's lashing out. He needs to learn how to deal with it differently."
Ms Hume said she met the Carterton School principal, a Resource Teacher Learning and Behaviour representative and two other teachers last week.
"At least he's not turning it on himself but he needs to build up a resilience to being bullied and people calling him names," Ms Hume said. "We're all trying to help Raybane build up his confidence and manage his reactions when he's bullied."
For more articles from this region, go to Wairarapa Times-Age