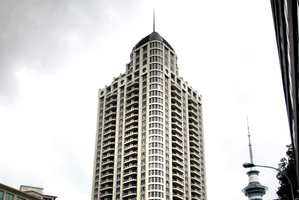 The son of Mana Party leader Hone Harawira was put up in the luxury Metropolis apartments and hotel in central Auckland after complaining that construction work on the Waterview connection was "interfering" with his shift work.
A source has told the Weekend Herald that Hone Harawira jnr has clashed with contractors from the Well Connected Alliance, the consortium building the six-lane motorway that will join SH16 and SH20, about everything from construction noise to parking on his Mt Albert street.
The state house which Mr Harawira lives in is in the project's path and he has been locked in mediation over it.
It is understood that he was given $1,000 to move away from Auckland, but changed his mind and is still in the house. After he complained that the project interfered with his "shift work", the Alliance put him up at the Metropolis.
The Weekend Herald has been told the consortium offered to put sound walls up near Mr Harawira's home to reduce the noise but he refused and has insisted it must stop trucks travelling to and from the site.
His other complaint has been lack of parking near his home since work began, although the source said all residents were told the consortium would be working around the clock.
Mr Harawira could not be contacted yesterday but the Transport Agency, which is overseeing the Waterview project, confirmed that some residents had been moved into other accommodation.
The state highways manager for Auckland, Tommy Parker, said: "During the construction of major projects in urban areas, our contractors will use a range of techniques to reduce the impacts on surrounding residents and businesses ... the installation of noise walls, temporary evacuation of residents, and in some cases temporary alternative accommodation. "
Mr Parker said that to ensure safe blasting, in some cases residents were "evacuated" from their properties for up to 40 minutes, and given $50 supermarket or fuel vouchers.
On average, each resident received 40 vouchers worth $2,000.
"If an affected resident is a shift worker requiring sleep during the daytime, it's appropriate for the Alliance to contribute to alternative accommodation," Mr Parker said.
The consortium has paid for 34 nights of accommodation at a total cost of $7,200.