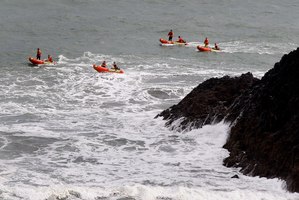 An adventure company responsible for a rock-climbing expedition during which three people were swept to their deaths has pleaded guilty to failing to ensure their safety.
The Taranaki Outdoor Pursuits and Education Centre (Topec) had been charged over the deaths of 42-year-old Bryce Jourdain and 17-year-old Spotswood College students Stephen Kahukaka-Gedye and Joao Felipe Martins De Melo.
The trio were swept out to sea on August 8 last year while climbing Paritutu Rock.
Topec pleaded guilty today in the New Plymouth District Court to the charges relating to failing to ensure the safety of its staff and the students from Spotswood College in its care, Radio New Zealand reported.
Spotswood College principal Mark Bowden said the mother of one of the boys killed was pleased with the guilty plea.
"We've suspended our camps at Topec until we've been able to go through the outcome of the enquiry. I would like our kids to be involved in the outdoors ... ensuring that our young people are safe in the outdoors,'' Mr Bowden told Radio New Zealand.
The charges had been laid by the Ministry of Business, Innovation and Employment's health and safety group.
Each charge carries a maximum fine of $250,000 and Topec is due to be back before court for sentencing on September 6, TV3 reported.
- APNZ