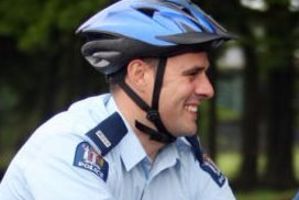 A Hawke's Bay police officer has been charged with seven counts of indecently assaulting five different women when he was a volunteer lifeguard director at Ocean Beach.
Adam Dunnett, 37, a constable who has worked in the Flaxmere community, appeared at Hastings District Court yesterday and entered no plea to the charges.
He also lost his bid for name suppression yesterday.
Arguing for name suppression, Dunnett's lawyer Jonathan Krebs said the publication of Dunnett's name and photograph would cause extreme hardship for him and said in at least two of the cases there was dispute over the identity of the offender. Judge David Cameron said Dunnett had denied it was him.
Mr Krebs said publicity would hinder Dunnetts ability to return to his community based role as a police officer.
Mr Krebs also said the publication of in-court photographs could influence victims and witnesses before a trial stage is reached.
Sergeant Toby Morgan represented the police in court yesterday, he said other police officers had been through the courts without name suppression and had managed to maintain careers in the police if they were acquitted.
He said it was possible Dunnett, who has been with the police for 10 years, would be redeployed in the event he is found not guilty.
Mr Morgan said the media coverage might be unpleasant and unwanted but did not warrant extreme hardship for Dunnett.
Judge Cameron acknowledged the wide public interest in police officers as enforcers of the law and said Dunnett would have been aware that any offending as a police officer would attract "intense public scrutiny and media attention".
The court heard the alleged offending took place between May 20, 2011 and December 31, 2012.
Mr Krebs said the alleged offences took place at parties, alcohol was involved and that "certain things happened".
It is understood Dunnett has been stood down from the police while the matter is before the court. When contacted yesterday by the Hawke's Bay Today police declined to comment on whether or not Dunnett is still being paid whilst suspended. Mr Krebs was also unaware.
Richard Wilson, President of Ocean Beach surf life saving club, said the club had no comment on the proceedings at this time.
He was remanded on bail to reappear on July 17.
For more articles from this region, go to Hawkes Bay Today