Jordan Voudouris was murdered at the back of his pizza shop in Paeroa. A year later the town is full of theories but evidence is harder to find.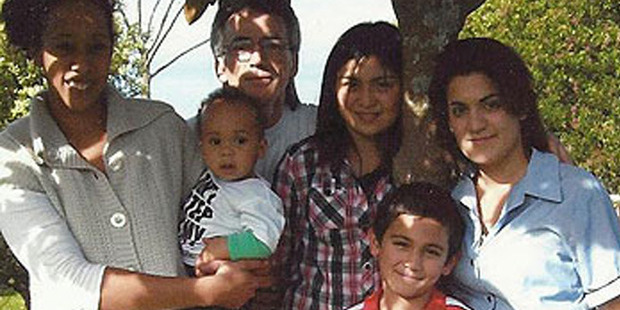 Where Jordan Voudouris died, flowers will grow.
A garden will be planted near the corner of the alley where his murdered body was found, at the back of the Mykonos pizza shop in Paeroa.
It is one way the people of the small Hauraki Plains' town will remember and grieve.
The sketched plan for the garden has a memorial plaque. Originally it was to read "Justice For Jordan". Almost a year on, the police investigation has quietly moved out of town. The large office area which housed the inquiry team is empty. In a few weeks, the $50,000 reward for information will expire.
No longer will the sign talk of justice. Paeroa hopes for justice but it is no longer an expectation. Instead, the memorial will read: "Jordan Voudouris - our pizza man."
The shot which killed Mr Voudouris was fired early on Monday morning, June 18 a year ago.
It came some time between 1.30am and 4.30am. Local talk has it the killer fired a .22 small calibre round, which left no exit wound. Mr Voudouris was shot inside a gate fitted to close off the rear of the shop, after two burglaries the previous March. Meat had been taken from the freezer outside the back door, seemingly by those who knew what they were looking for. The thefts infuriated Mr Voudouris, who willingly gave away food to many. But the intent didn't match the reality - the gate never quite closed properly.
Police say Mr Voudouris did not die where he was shot. He staggered out from there, whether consciously or not. The front of the restaurant was locked after the close of business - the shortest route to help would have been along the shared driveway behind the business.
He made it 15 metres to where he was found early the next morning by neighbouring antique dealer Linda Hunter, who initially thought his body was that of a child. The vibrancy of life makes us seem larger than we are and the people of Paeroa remember Mr Voudouris as one of the town's most vibrant citizens. He had shrunk in death.
It was only when St John Ambulance attended that they realised who it was, lying dead at the edge of the driveway in the chill winter morning.
A month later, the revelation that it was a shooting horrified the community even more.
Paeroa has wrestled with earlier violent shooting deaths - Steven Slavich was murdered in 1991 by a teenager he tried to help. In 2000, Brian Olsen took in a man who had nowhere else to stay and, for his troubles, was murdered as he slept.
For almost a month, they searched Mr Voudouris' shop and apartment above. The search for the gun extended outwards from Mykonos without luck. Friends and neighbours were interviewed. Staff member Tatiana Tauriki, 18, was spoken to "four times at the police station - twice for the whole day - and 10 different phone calls". MP and former weatherman Brendan Horan was interviewed twice - he befriended Mr Voudouris during stops for pizza on the road from TVNZ in Auckland to his home in Tauranga.
"They did get a lot of paperwork from me," says book-keeper Kaye Roskam, "and I did have some very long interviews." What was owed? Did he owe money? Were there staff problems? "They were clutching at straws everywhere. They left no stone unturned."
The town stopped as 1600 people came to pay their respects at the funeral. Mr Voudouris' former partner Gwendalyn Richmond came, and their children, and they were told of his warmth, generosity and kindness. They learned how his shop became a focal point for young people close in age to his own children, in their mid-late teens and early 20s.
But the answers didn't come. The restaurant stayed closed. At night, trucks would roll through town and, instead of stopping for pizza, they sounded their horns at the empty shop as they passed. Neighbouring shopkeepers recall the blaring reminder of loss.
Police eventually surrendered the crime scene and restaurant. Miss Tauriki cleaned decayed food from the fridge with staff member Kim Rangiihu, 48, before locking up again.
Adrift, the youth of the town held a fundraising concert in August at the Paeroa Leisure and Skate Centre, which runs youth programmes. Talk began of buying Mykonos with the concert funds to run the restaurant as a youth-led community project. German expatriate Dennis Kuhn, 36, now a youth worker in the town, says Mr Voudouris "almost encouraged teenagers to hang out there" with "this amazing balance to keep it professional". Teens ate, drank talked and worked there. In recent years, McDonald's set up in town but the lure of the golden arches didn't trump Mykonos. Mr Voudouris' kitchen was as generous as he was with his company, and the teens kept coming. It made doing the accounts difficult. Mrs Roskam laughs at the memory: "He was a nightmare to me because he kept giving everything away."
Ms Richmond explains: "Jordan was a friend to everyone, young, old and in between. Teenagers warmed to his generosity, wisdom and humour. Jordan was funny, enjoyed a good joke and a laugh, and always had a smile. Having teenagers of his own, Jordan had an understanding and genuine kindness for them. He couldn't see anyone go hungry, cold or sad."
He loved small towns, and Paeroa was the one he chose above others. "He even went far north as Kaitaia. Jordan loved Paeroa. He loved the smallness of the town, and the friendly community."
He was there for seven years and expanded to fill as much space in the town as he could. The vacuum he left wasn't just about pizza.
As it turned out, the money raised by the town's youth never went towards buying the restaurant. Benny Tjan came to town and now Paeroa has a new pizza man.
People see Mr Tjan walk down the street and think it's Mr Voudouris alive again. The Greek's rolling gait - perhaps a legacy from his navy days - matched the Indonesian immigrant's walk. And there's something about the profile, they say.
Mr Tjan didn't just appear from nowhere. He and Mr Voudouris worked together at an Italian restaurant in Devonport in about 2001. He had an earlier interest in the business and after Mr Voudouris' death, the murdered man's brothers Nikos and Christos suggested he take it over. He opened Mykonos for business again on September 13.
Mr Voudouris' patterns are now Mr Tjan's patterns. "He was doing a Sunday night," he says. "It is a very quiet night, Sunday night."
He wonders, constantly, who killed Mr Voudouris. A portrait of the slain man hangs in the restaurant. There are baseball caps for sale - "Justice 4 Jordan."
"Jordan is a nice man, he would never fight anyone. That's why it is confusing for me what happened with him. All the local people who come here [loved] him."
Like Paeroa, Mr Tjan lives with the mystery and gets on with life. But as Vivien Leonard, at Arkwright Antiques next door, says: "We've all become detectives."
There are almost as many theories as there are sleuths in Paeroa. They are clear, though, that the murder is not a symptom of an inherent sickness in Paeroa. It was the 2012 Community of the Year and has a bustling boomtown feel about it. Jo Tilsley from Postive Paeroa endorses the impression of bustle and boom - but she says it comes from Paeroa learning how to work hard and smart, never letting an opportunity pass. It wasn't any different at Mykonos where business was known to be hard but steady.
When found, Mr Voudouris had money in his pockets - about $1000, apparently. There had been talk, too, of a big win at the races. Played down at the time as being about $400, it has since been played up to a larger amount. There was nothing missing from his body, or from inside the shop.
In the weeks after the killing, the leads suggested the mystery would be solved quickly. A young man on a rampage from Rotorua appeared a likely suspect - a Katikati dairy and the Mobil service station in Waihi were robbed at gunpoint. He was arrested for those but there was no link to Paeroa. Then for some time, speculation centred on a methamphetamine cook on the run for two years, who was arrested in the wake of the murder. Police ruled him out as a suspect.
There were questions about a young man who had worked in the restaurant. He was known to Mr Voudouris from Whangaparaoa, and had been offered work in the pizza restaurant as an opportunity to remove himself from a bad scene. In the fortnight before the murder, the pair argued. The young man didn't work at the restaurant for days afterwards, returning just before the murder. Police say there is a solid alibi for his whereabouts - but there is speculation over what he said, and who to, while angry at the man who tried to help him. Did someone overhear him talk of the race winnings? If so, was that the motive - and did they panic and leave the money behind? The young man has since left town.
The problem with asking questions is the inability to choose the answers. Ask the teenagers at the youth centre whether it was a local person who killed Mr Voudouris, and they all say it was a stranger. Whatever badness came to Paeroa that night is something they hope is gone.
Tatiana Tauriki is helping to organise a dinner for June 21 at the restaurant to mark a year since Mr Voudouris was killed. She has no time for theories and has stopped listening. "Until I hear it come out of the police's mouth, it's not true to me."
The former Work & Income offices that detectives used as their base for the inquiry stand empty. About two months ago, police quietly moved on. There is three weeks remaining until the $50,000 reward for information expires. An offer of immunity remains for anyone other than the killer to come forward.
Departing detectives have left behind a town admiring of their work, although as frustrated as police at the lack of a result. It is not for want of trying. Everyone interviewed by the detectives - and it seems almost everyone was - speaks of how carefully questions were asked, how considerate police were and how nothing was left to chance. Also full of praise for the police is Mr Voudouris' stepdaughter Carrie Joyner (mother to his grandson, Malakhai), his daughters Mia and Sofia and his son, Spyros.
"We would like the public to know that Jordan's case remains active," they say in a joint statement. "Almost a year has come and gone and we miss our much loved Pappa. It has been the hardest year of our lives. Just knowing we can't pick up the phone and share our daily lives with Pappa like we used to. A song, a smell, a saying, certain food, places [and] even a piece of clothing constantly reminds us of our loss. Pappa is constantly in our thoughts and our hearts.
"Who could commit such a senseless murder? Who in New Zealand walks the streets with a loaded gun? Please help us find who did this."