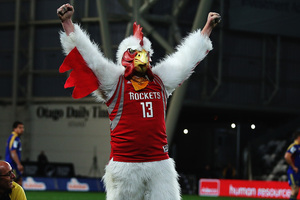 Animal instinct has earned Andrew James hero status.
In his duties as AJ the Chicken, the Highlanders' mascot, Mr James tackled a streaker during the home team's victory over the Blues at Forsyth Barr Stadium on Saturday.
"I felt as a mascot it was part of my duty," he said yesterday. "I had to stop him at all costs. So I gave it my all, showed some toe and managed to catch him."
It was Mr James' first tackle and the odds were against him. Last November he broke an ankle, which he still straps for games, and his chicken suit was made for dancing - not sprinting.
The cumbersome costume slowed his running and restricted his vision, but sheer determination paid off.
"I saw there were no security guards on him so I thought I would just do my best and try to save the day. I started running ... as fast as I could and then I just dove and tackled him."