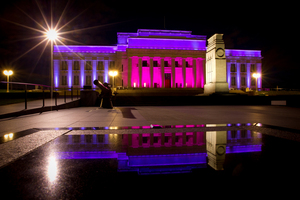 A lighting display in honour of the Queen turned the Auckland War Memorial Museum royal purple last night.
The gesture marked the 60th anniversary of her coronation that by coincidence falls a day before the official marking of Queen's Birthday in New Zealand today.
Lighting displays at the museum mark certain significant civic or cultural events.
Examples include Anzac Day, Christmas and Auckland Council-supported events such as the Chinese New Year festivities, Polyfest, Auckland Pride Festival and Matariki.
The New Zealand, Australian, Union Jack and New Zealand air force and navy flags will be hung across the front of the museum to mark Queen's Birthday today - something that happens only five times each year.