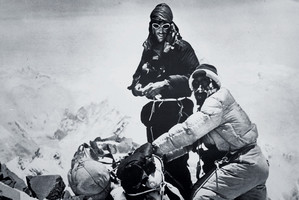 The grandson of Tenzing Norgay, Sir Edmund Hillary's companion during his historic ascent of Mt Everest in 1953, has hit out at the disparity of the awards bestowed on the climbers.
While Sir Edmund received a knighthood, Tenzing received the George Medal - created in 1940 for acts of bravery by civilians.
"I think my grandfather should have been knighted," Tashi Tenzing, 49, said. "He was a member of the expedition, not just a Sherpa. They just gave him a bloody medal."
Yesterday - the 60th anniversary of the conquest of Everest - Tashi called on the British Government to recognise the contribution Sherpas made to the feat.
It was an opportunity for "a gesture from the Queen and the people of England to recognise that my grandfather was the man who took their flag to the summit".
Tenzing had climbed to within 200m of the summit during an earlier Swiss expedition, and was the mountaineer with the most experience on the British expedition.
In interviews just after the ascent, Hillary insisted he and Tenzing had reached the summit together, though he later admitted he was in front.