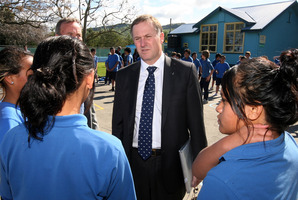 The Government's plan to ensure children don't go hungry at school will go beyond providing them with food, Prime Minister John Key says.
Details of a new food-in-schools programme will be revealed during an announcement on vulnerable children tomorrow - but Mr Key today indicated there would also be "one or two" other parts to the plan.
"I wouldn't over-hype it, but it's not just food."
Mr Key hinted it could include measures to stop children going to school "hungry and cold".
"We invest millions in making our education system world-class and every child deserves a world-class education, but the reality is that they're not going to make the most of that if they come to school hungry and cold - and that's not the child's fault."
Asked if the programme would address the issue of children going to school cold, Mr Key said to "wait and see".
"The Government overall is looking to respond to the issue in a number of areas of vulnerable children that are in forms of deprivation ... the food-in-schools programme is part of that. There's a lot of different factors."
Mr Key said the programme would involve "serious, established partners" with good distribution capabilities.
"We see this initiative being driven by schools, communities and businesses - not just the Government. While providing food to schools goes some way to helping them learn, it's not the answer to the underlying problem, which of course is poverty.
"The two biggest factors in helping people rise out of poverty are, of course, paid work and education. That's why we have such a strong focus on reforming the welfare system and supporting more people off welfare and into work."
Mr Key said it made sense to target the children who were most in need, but the programme could be rolled out beyond lower decile schools.
He said there were lower income areas around some high-decile schools, and children from higher income homes might not always be fed.