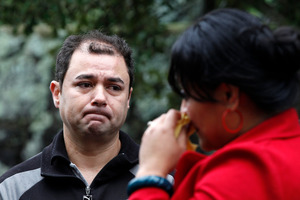 Latu Paasi wiped away tears as she watched the unveiling of her husband and son's headstone yesterday - the first anniversary of their death in a boating tragedy.
Buried together at Onehunga's Waikaraka Cemetery, So'saia Paasi, 45, and his son Tino, 7, drowned nearby after their dinghy capsized during a family outing on the Manukau Harbour.
Three other members of the family also on board the dinghy - So'saia Junior Paasi, now 3, his brother Komani, 11, and cousin Tom Paasi, 10 - survived.
In an emotional reunion at the service, Latu Paasi met the man who saved her youngest son from drowning, fisherman Allan Godfrey, 40. He was one of the men who stripped down and jumped into the chilly waters of the harbour when they heard the children screaming.
"When I saw the heads go under and they didn't come back up, that's when I knew it was serious."
Godfrey said the two older boys scrambled to shore but only the youngest boy of the three others resurfaced.
"The water was freezing and by the time I'd got to the little boy I had run out of breath. It was that cold but I just flipped him over and started heading back to the bridge."
Back on land, he and another man started CPR. "It's good that we managed to save a life. I feel a bit helpless there were two others there. I sort of think, why did one manage to come up and the other two not?"
Latu thanked those who had supported the family in the past year, and Godfrey for his actions: "It means a lot to me and the family for what you did to save my son's life."