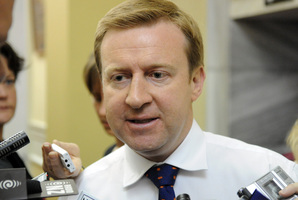 National Party members are pushing for a new "waka-jumping" law to force rogue list MPs out of Parliament.
Delegates at the party's northern regional convention yesterday voted to ask the Government for the law.
Former NZ First MP Brendan Horan is the only MP who would be affected but National Party members were spooked this month by fears that disgraced junior list MP Aaron Gilmore would stay in Parliament against party wishes.
Gilmore sparked fury for telling a waiter at a Hanmer Springs hotel he could get the prime minister to sack him if he refused to serve more wine.
"Don't you know who I am," he allegedly asked the waiter.
The beleaguered MP hung on for more than a week, before resigning.
Cabinet minister and Northcote MP Jonathan Coleman said the proposed law change was "pretty much common sense".
Previous legislation banning MPs from staying after leaving or being thrown out of a party lapsed in 2005.
Prime Minister John Key has said Parliament may look at a new law if there was cross-party support.
The issue is being looked at by the Constitutional Advisory Panel.
The Herald on Sunday understands the panel has several submissions, both for and against a new law.
Submissions close in July and the panel will report to the Government later this year.