Sir Peter Gluckman believes topics chosen for development by top brains will deliver major benefits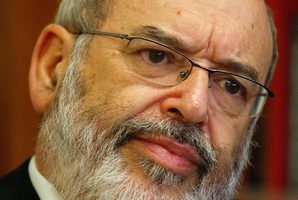 The Prime Minister's chief science adviser says a hitlist of 10 big issues for our top brains to tackle will be "transformational", despite criticism that they lack imagination.
The Government's new National Science Challenges take aim at a range of areas, among them health issues stretching from early childhood to aged care, biodiversity, technological innovation and land and water.
New Zealand Association of Scientists president Professor Shaun Hendy has been left underwhelmed at the challenges chosen.
"It remains vitally important that these challenges break new ground," he said yesterday. "How the science community, the public and the Government front up to these challenges will determine whether they live up to their potential."
But Sir Peter Gluckman has no doubts the challenges will deliver major benefits.
Sir Peter, who chairs the peak panel that selected the challenges, stressed the process was still in its early stages, with detail and funding allocations still being worked out.
Importantly, the fresh approach would also see cross-disciplinary collaboration - scientists from different fields coming together to work toward a single mission.
"I think what we are seeing here is a very substantive change being progressed in which the New Zealand science system operates," Sir Peter said.
"It's a lot more about benefit to New Zealand - but it's also not destroying the innovative intellectual capacity of individual scientists, many of whom felt they had been very controlled in recent years."
Sir Peter said the challenges would empower scientists in some areas to "really get moving in a different way" and believed the benefit to New Zealanders would be "much, much bigger than people realise".
Of the hundreds of people within the science community he had spoken with since the challenges were announced, the vast majority were positive about the initiative, he said.
"It's a very interesting process, but it's particularly innovative in the context of New Zealand - and I think New Zealand is going to see that the science community can do a hell of a lot more for New Zealand than it has to date."
Responding to criticism that the challenges lacked imagination or innovation, he said a matrix of different sciences and innovation could be found within each of the challenge areas.
Science New Zealand chief executive Anthony Scott felt the panel had done a good job choosing the challenges, with the $133 million in taxpayer funding serving as "glue" between cross-institute work, boosting research, or providing critical mass.
"The task now is for the science community to define the themes - and to create those Kennedy-esque statements around the challenges."
Sir David Skegg, president of the Royal Society of New Zealand, also saw the challenges as one of the most encouraging developments for science in recent years.
"In a country with limited resources, it is vital that the various research groups in our universities and research institutes are assisted to collaborate more effectively," he said.
Sir Peter said he now wanted to keep the public engaged as the project progressed.
"And I see that as my challenge - to work out how to do that."
National Science Challenges
1. Ageing Well: Harnessing science to sustain health and wellbeing into the later years of life.
2. A Better Start: Improving the potential of young New Zealanders to have a healthy and successful life.
3. Healthier Lives: Research to reduce the burden of major health problems.
4. High Value Nutrition: Developing high value foods with validated health benefits.
5. NZ's Biological Heritage: Protecting and managing our biodiversity, improving our biosecurity, and enhancing our resilience to harmful organisms.
6. Our Land and Water: Research for primary sector production and productivity while maintaining and improving land and water quality.
7. Life in a Changing Ocean: Understanding how we can exploit our marine resources within environmental and biological constraints.
8. The Deep South: Understanding the role of the Antarctic and the Southern Ocean in determining our climate and our future environment.
9. Science for Technological Innovation: Enhancing our capacity to use physical and engineering sciences for economic growth.
10. Resilience to Nature's Challenges: Research into enhancing our resilience to disasters.Jamie Morton science