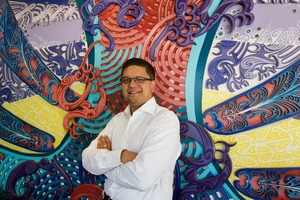 TVNZ's Shane Taurima has confirmed he will seek Labour's selection for the Ikaroa-Rawhiti by-election, saying the late Parekura Horomia had approached him about standing in the past and he was now ready to "return home.''
Mr Taurima, who is the head of Maori and Pacific Programming at TVNZ, will go up against at least two others to contest the seat for Labour including district councillor Henare O'Keefe and Ngati Kahungunu chief executive Meka Whaitiri. It is expected to select the candidate this weekend.
Mr Taurima, who is of Ngati Kahungunu and Rongomaiwahine descent with connections to Ngati Porou has been a journalist for 18 years, including as a presenter for TVNZ programmes Marae, Te Karere and political show Q+A.
Mr Taurima said Mr Horomia had urged him to stand for Parliament at least twice, before both the 2008 and 2011 elections.
"Given my career choice and the absolute need to be impartial, apolitical and professional, I would politely decline his approaches and he respected me for that. It wasn't my time back then. I wasn't ready. But I am ready now.''
A spokeswoman for TVNZ said Mr Taurima had resigned from Q + A and was now on leave from his other broadcasting roles.
Born and raised near Napier, Mr Taurima said he had lived in the electorate most of his life - from Napier to Upper Hutt - before moving to Auckland four years ago.
"My grandparents sent me off to the big smoke to get experience, skills and knowledge. They said the time will come when you return home and put it to good use for the betterment of the people. That time has come.''
He said his political experience, networks and contact with grass roots Maori meant he was the best person to stand. Although he could not fill Mr Horomia's shoes, "I have my own jandals to wear and a clear footprint to follow.''
The Maori Party has selected its 2011 candidate Na Raihania for the byelection and the Mana Party will select between two nominees: Te Hamua Nikora and Leon Hawea. The Green Party will announce whether it is standing in the by-election tomorrow.