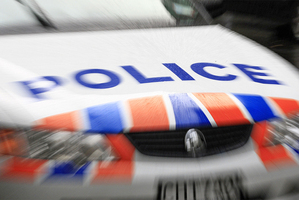 A driver in a BMW armed with a hunting knife and mask led police on a 100km low speed pursuit along a major Northland state highway.
Motorists travelling on State Highway 1 between Warkworth and Whangarei were forced to take evasive action as the fleeing driver wove his car on both sides of the road during the hour-long pursuit.
Road Policing Services team leader Johnny Fagan said the chase started at 2.20am in the Whangarei suburb of Raumanga when the male driver accelerated past a police alcohol checkpoint on the wrong side of the road.
Police tried to stop the vehicle as it travelled at the slowly at speeds of 70 to 80kph south on State Highway 1.
At times the car crossed the centreline and drove on the wrong side of the road to prevent police from stopping him.
Police laid spikes across the State Highway including near the exit to Waipu and at the bottom of the Brynderwyns.
He continued travelling on the rims after all four tyres were punctured.
Police eventually took the unusual step of forcing the vehicle off the road near Warkworth after the driving became more erratic, said Fagan.
Five police cars were involved in the chase, including a car from the Waitamata police district which travelled 1km ahead flashing its lights to warn oncoming motorists.
When the car was eventually stopped police found a hunting knife and a mask in the vehicle.
"It seems like he was on a bit of a mission and we were in the right place," said Fagan.
He praised police involved in the pursuit saying they were able to control the chase without putting other motorists at more risk than necessary.
Fagan believed the driver had mental health issues and unresolved family problems which led him to behave in this manner.
A 20-year-old Whangärei man has been arrested and charged with possessing an offensive weapon, dangerous driving and failing to stop.
He was assessed by mental health services and was in custody.
He was due to appear in the Whangärei District Court and police would oppose bail.