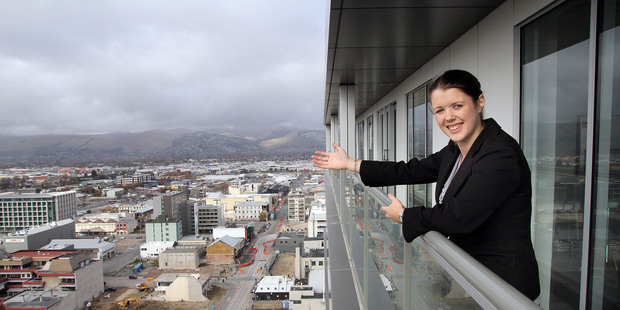 There is a million dollar view atop the South Island's tallest building, overlooking New Zealand's shakiest city.
With its wraparound windows, affording panoramic views of the snow-capped Southern Alps, Christchurch's expanse of beaches, and the Port Hills, the vistas are unmatched.
And soon it'll be home to one lucky Christchurch resident, who has a strong constitution for heights, and doesn't mind the constant hum of diggers and jackhammers on demolition sites below.
The penthouse is on the 22nd floor of the redeveloped 86m-high Rendezvous Hotel on Gloucester Street in the heart of the quake-devastated central business district.
The 171-room hotel, which opened only months before the September 2010 quake, reopened to guests earlier this month.
It had been closed since the deadly February 22, 2011 jolt and had to undergo repairs to its steel links which performed well in the high intensity magnitude-6.3 shaking.
In recent months, the penthouse has been developed for its local owner who plans to use it as a private residence.
Ernest Duval, developer for the building and spokesman for the anonymous owner, said the 400 sqm apartment is a "unique trophy investment".
"The owners like the fact it's the tallest building in Christchurch, and they're able to witness the new city being built beneath them," he said.
Mr Duval says other apartments on floors 15 to 22 have also been developed, with some already in private ownership, and others are set to go on the market.
- APNZ