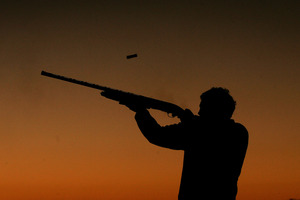 A Dunedin man who set his pen on fire to signal searchers emerged relatively unscathed after spending several hours lost in the Blue Mountains near Tapanui on Tuesday night.
Sergeant Craig Dinnissen, of Balclutha, said police were alerted when a hunter failed to meet his hunting partner in the Blue Mountains shortly before 7pm.
The 45-year-old Dunedin man had been hunting in the Blue Mountain hills since noon and failed to arrive back at the pair's vehicle at 4.30pm as arranged.
Sergeant Dinnissen said the man, who was an experienced hunter, was "saturated and cold" after falling into a creek.
The man hit his head, lost his hat and damaged his phone in the fall. He tried to use his compass but did not realise he had gone so far into the Dunn Creek hunting block.
"He decided to hunker down for the night."
The Otago Rescue Helicopter was called in to help with the search, using their night vision equipment.
The man set a pen on fire to signal the helicopter, after the flame on his cigarette lighter kept going out, Sergeant Dinnissen said.
About 11pm the helicopter crew identified a light source, and picked up the man before dropping him off in a car parking area to talk to waiting police officers. He did not need medical attention and returned home to Dunedin with his hunting mate.
Three police officers and the helicopter were involved in the search.
Sergeant Dinnissen said this was the third time in three years a search operation was launched in the popular Dunn Creek hunting block.