It was very fast and very scary, says woman who saw house burning.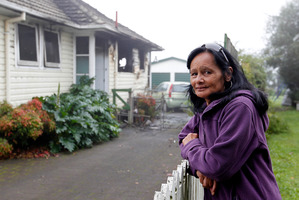 Confusion over the Maori word for "mother" and the English word "fire" may have been the difference between life and death for a Hamilton woman and her daughter whose home was gutted by an early morning blaze.
Firefighters were called to a Melville house yesterday about 5.15am that was alight, apparently after an electric heater was left on to dry clothes. A 40-something woman and her daughter in her 20s managed to escape the fire at their Montgomery Cres home with the help of a neighbouring couple.
One of the neighbours, Hazel Hardiman, could hear screaming and yelling from next door just before she was about to get out of bed.
"I could hear someone yelling 'Fire! Fire!' and I thought they were calling out my name because all the kids around here call me Whaea [mother] Haze," she said.
She looked out the front door and saw the fire. "I just called to my partner, 'Get over there, it's a fire!' It was very fast and very scary."
Her partner guided the woman and her daughter to the rear of the property. Senior fire risk officer Kevin Holmes said the fire seemed to have been caused by an electric heater left on in the lounge.
A relative of the woman who owns the house said she was "okay" and recovering in Waikato Hospital while her daughter had suffered smoke inhalation.