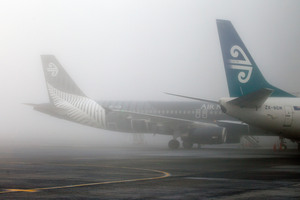 An urgent liver donation, flown in a jet from Sydney to Auckland this morning, was delayed in reaching a critically ill patient.
Thick fog in Auckland forced the Beechcraft Citation carrying the donated liver to divert to Tauranga Airport where a road ambulance was preparing to drive the organ to Auckland about 9.45am.
The liver had been donated by a patient at a Sydney hospital and was reserved for a critically ill person at Auckland Hospital who had been listed as the most urgent trans-Tasman patient waiting for a liver transplant.
Dr Stephen Streat, the clinical director of Organ Donation New Zealand, said patients in urgent need of liver transplants had often suffered acute liver failure and "they literally have only a few days to live unless they get a ... transplant".
He said surgeons aimed to have a donated liver transplanted to its recipient within eight hours, which provided at least a two-hour window after an organ was flown to Auckland from Australia.
The plane that diverted to Tauranga this morning refuelled before the fog lifted in Auckland and the liver was able to be flown to the city and delivered to the organ transplant team at Auckland Hospital.
"It's always a bit worrisome [when donations are delayed]. But everybody works very cooperatively. We make all kinds of arrangements [to ensure an organ is delivered quickly]," Dr Streat said.
"From what I've heard, this morning's arrangement had no adverse consequences [on the transplant]."
Dr Streat said there was a better than 99 per cent survival rate for people who received liver transplants in New Zealand.
Those who received an urgent transplant for acute liver failure were given above a 90 per cent chance of survival, he said.
- APNZ