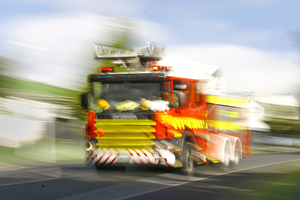 The farm worker who died in a house fire on Saturday night had just got engaged.
Hamish Allan, 28, died at a Mickleson's Rd property at Utiku near Taihape around 10.30pm on Saturday.
A fire safety investigator was yesterday still at the scene of the fire, as was the farmer who owns the cottage and was Mr Allan's employer. He said the tragedy was too devastating to talk about.
"My young farm worker is dead, his partner is distraught ... I simply can't talk about this."
Local people said Mr Allan's partner, aged in her mid-20s, was from Taihape and had family there.
"The couple had just got engaged," one woman said.
Mr Allan and his partner were both in the house when the fire broke out.
Taihape Constable Tony Lomas said a "good Samaritan was passing" and noticed smoke and flames coming from the house.
"He entered the house and woke Mr Allan's partner."
Mr Lomas said the woman managed to exit the house with her cat, and the man went back in for Mr Allan.
"The house was soon engulfed in flames and he was unable to get to him safely."
Mr Allan, a former student of Gisborne Boys' High School, worked at Poverty Bay Golf Club and was a Poverty Bay-East Coast junior golf representative, the Gisborne Herald reported.
Mr Allan's death has been referred to the coroner.
For more articles from this region, go to Wanganui Chronicle