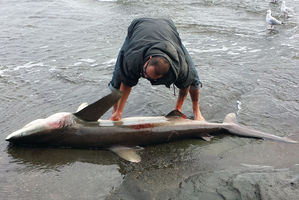 An oceanic whitetip shark found on Muriwai Beach this weekend has been embalmed for the Auckland Museum natural sciences collection today.
The 2.5-metre shark, which was pregnant with at least 11 pups, was found washed up on the beach on Saturday. She had six pups and another five had washed away.
The shark and six pups have been kept on ice over the weekend, and the shark was today embalmed in formalin to allow it to be kept in the museum's collection.
Incisions were made along the shark's back on one side to assist with the formalin taking, before it was lowered into a tank of alcohol.
Auckland Museum's Head of Natural Sciences Dr Tom Trnski said the process would allow it to be kept in the museum's collection for hundreds of years and made available to researchers from around the world.
Dr Trnski said he had looked carefully for signs of what caused the shark's death, but couldn't find any evidence of injury, such as being caught in fishing lines, or of complications from birth.
"It may be something that a researcher in the future may be able to find out."
It was unusual to find one in New Zealand waters, particularly at this time of year, as oceanic whitetip sharks are typically found in warmer, tropical seas.
"These sharks also typically prefer off-shore, deep-ocean areas so this is an unexpected find."
Dr Trnski said the shark would be the only oceanic whitetip in a museum in New Zealand, and the mature 150kg female was also the largest recorded in the southern hemisphere.
The pups will also remain in the museum's collection, but have not yet been preserved.
Earlier this year the oceanic whitetip shark was given full protection in New Zealand territorial waters under the Wildlife Act 1953.
- APNZ