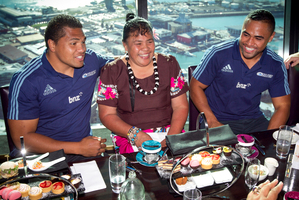 Blues player Francis Saili took some time off from rugby to celebrate Mother's Day yesterday at Auckland's highest restaurant.
Francis and his brother Peter were among several Blues rugby players - including Anthony Boric, Tom McCartney and Ofa Tu'ungafasi - who celebrated Mother's Day with their mums at SkyCity's Orbit Restaurant.
It was all smiles yesterday for the brothers as they tucked into an array of gourmet pastries and savouries - such as whisky trifle, sage tuille and oxtail fritters - with mum, Ana, to celebrate the special day.
The Blues' mums were each also presented with a bottle of bubbly, an East Day Spa voucher and meal vouchers as a gift from SkyCity.
"A lot of fans recognised the players and were quite excited to see them," said SkyCity spokeswoman Kelly Armitage.
"Although people left them to enjoy their Mother's Day with their mums rather than coming over for autographs."