The Government's delight in announcing declining nationwide unemployment this week masked a grimmer truth: In some regions, more people are out of work than before. And the shadow of redundancy hangs over many people in jobs once considered safe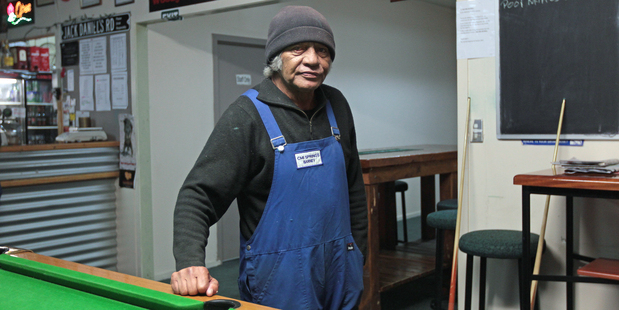 The old Deka sign still stands above Huntly, a forlorn reminder to passing motorists on State Highway 1 of the town's struggles.
The faded sign has remained there for the 12 years since the department store closed its doors. Yet locals, with a certain sense of mischief, have embraced it and now describe it as a national icon. The community board called this year for a heritage protection order on the sign. Certainly, it is a monument: a monument to the 468 full-time staff and 947 part-timers who lost their jobs when Deka closed 43 stores in 2001.
This week, on Wednesday afternoon at McGinty's Turf Bar on Main St, Martin Moetu Pohutuhutu is playing pool with a mate from Auckland. Over at the mine, staff receive an announcement at 3pm. Still reeling from the loss of 63 mining jobs last year, Solid Energy has more bad news for them. Though the remaining Huntly miners still have their jobs for now, there are more redundancies across Solid Energy's New Zealand operations.
Pohutuhutu, a retired coal miner, is keeping his head down. The mine was once his life - he worked there for years. But back then, it was secure work. Now, they seem to announce another round of redundancies every year.
"It's hard for me to talk about," he says. "In my day, jobs were for life. It's not like that any more."
The community has made some real efforts at beautification: flowers adorn the cottages on the highway; the sidewalks are paved on Main St, the speed humps are bracketed by native plants.
Today at least, the Four Square on Gordon Rd is bustling. It's post-school rush hour in Huntly; mums and dads and grandparents queue with hungry kids for pies and chips and other afternoon treats. It's a typical after school tableau in a typical New Zealand town.
But the news from the mine is trickling through by word of mouth. Jean Carter, expat Englishwoman, mother and grandmother, is standing outside the Four Square with granddaughter Zara, 3. She's just heard. "The redundancies at the mine last year affected many people," she says. "The value of the property here dropped significantly. The mine is one of the biggest employers in the town, along with the power station.
"If it closes, it's going to be a disaster for the community. Which is sad because it's a great community and a lovely place for families."
Workers at Huntly East coal mine have been spared during this latest round of layoffs, but Finance Minister Bill English has cast doubt on the long-term viability of Solid Energy and that is sounding alarm bells in the town.
The redundant miners have viewed Energy's slow and public demise as an inevitable consequence of a decreased demand for coal but the company is not suffering alone.
The past year has seen a raft of businesses collapse or falter, with attendant job losses in all sectors. KiwiRail cut staff by 158; the public sector has lost 1,119 employees. The Defence Force lost 655. The Department of Conservation publicly and controversially shed 72 jobs.
This week, the Statistics NZ Household Labour Force Survey revealed the national unemployment rates are at a three-year low.
But this needs to be qualified by the fact that 251,000 people of working age are still jobless. Although the Christchurch rebuild has created jobs (and an unemployment rate of only 4.3 per cent), regions such as Northland, Taranaki, Wellington and Otago have rising unemployment year-on-year.
Last year, Auckland unemployment peaked at 8.6 per cent and is still sitting at 7.3 per cent; Bay of Plenty has 8 per cent, Gisborne and Hawke's Bay have 8.4 per cent, and Northland has a massive 10 per cent.
It's not easy being an employee in this sort of job market, when there's the real threat of redundancy. Many New Zealanders go to work every day, wondering if their job will be there tomorrow.
Brian Lynch is an affable, salt of-the-earth kind of guy. He has worked at Huntly East mine for seven years and knows what it's like to live under the shadow of redundancy. If the mine closes, he says the community will suffer a body blow. Downstream effects on the Glenbrook steel mill could be even greater. "There are hundreds of jobs at stake here and we'll be encouraging the Government to see the bigger picture," he says.
"We just keep waiting to hear what is going to happen. There are so many rumours flying around. We just want to know the truth. It's always in the back of your mind that you might be losing your job."

The fear of job loss became a reality for Rotorua local Gillian Tangi last month. As a long-term employee of plastics manufacturer Solid Air (she's been there 18 years) she knew something was amiss when all the staff were called together for a meeting.
"There was a guy standing up the front that few of us knew. It turned out he was the boss from Australia. He announced that although it gave him no pleasure to tell us, the plant was closing and all production would now be done in Hamilton. They have mechanised much of the production and don't need us any more."
The Rotorua plant is being closed incrementally over the next 12 months. Some with specialist skills have been offered relocation packages to Hamilton but the rest are left high and dry.
Tangi says many of the younger people are moving to Australia. Fortunately, she has a job waiting for her when she leaves at the beginning of next year. In the meantime, she will continue working as the plant slowly disintegrates.
"It's really sad because we were like a family," she says.
Sharon Solomon from Oamaru also knows what it's like to see a much-loved job disappear. In March, the parent company of Summit Wool Spinners, Japan's Sumitomo Corp, confirmed it had sold the plant to Australia's Godfrey Hirst. Fifty jobs had already gone last year. The remaining 192 jobs disappeared with the mill's closure.
"We knew the writing was on the wall for sometime," she says. "But it was still a shock when it closed."
Solomon, who worked as a machine operator for 15 years, says that the town has been dead since the plant closed. "The streets are so quiet now," she says. "There are not a lot of other jobs around here. Five people left for good last week; two went to Australia and two went to Christchurch. And some people have to commute to Timaru to get work."
She, too, is considering moving if she doesn't find a job. "I am going to wait here for a few months and if I don't, I may have to move to Christchurch."
The raft of factory closures and subsequent job losses (mainly in smaller centres) seems to indicate something is amiss in New Zealand's manufacturing sector.
Opposition parties Labour, Green, NZ First and Mana are undertaking an inquiry into the future of manufacturing, in response to 40,000 job losses and the closure of more than 1,000 manufacturers.
But Catherine Beard, executive of Manufacturing NZ, says it's not all bad news in the sector. The latest Performance of Manufacturing Index shows a rebound over the past three months.
"It's been tough in manufacturing worldwide since the global financial crisis," she says. "But compared to other countries, our industry has been surprisingly resilient."

It is not just the smaller centres that are suffering from job losses, nor just manufacturers. A prime example is Telecom's announcement that it is looking to make many of its Auckland management staff redundant.
Job losses have also hit education across Auckland and further afield. Cost-cutting by Government has led to the loss of many jobs in tertiary education (a recent report on redundancies in the area puts the figure at 68 nationally over the past few months).
Bill Riley, a former fine arts lecturer at Manukau Institute of Technology, felt the sharp edge of these cuts when he was made redundant last year. "There had been job losses about three years ago," he said.
"And we knew more may be on the cards. There had been problems with funding. They announced there would be job cuts and that none of us were safe. But it took seven months for them to let us know who was going."
The threat of redundancy makes people feel insecure, he says. "When the possibility of redundancy was announced at MIT one of my colleagues became so stressed he had to go to hospital.
"The whole atmosphere in the school was shocking."
Being made redundant was hard to deal with. "It was depressing and stressful. I questioned my skills as an educator. But I've moved on and am now starting a new business."
Aucklander Lorna McNamara was made redundant from her role as manager at Events Cinema Highland Park earlier this year.
"Apparently, the rent was higher than what we were making, and there were too many other cinemas in competition," she says.
To make matters worse, McNamara's father was made redundant last week. "He worked at Onehunga Superyachts," she says. "They said they had no more work there for him. So now neither of us has a job."
McNamara says she has applied for more than 20 jobs, but was only offered one interview. "I have a diploma in sports and fitness," she says. "And management experience. I would love to have another management job."

For those who are employed, the possibility of future redundancy seems to loom large. John McCarthy is joint director of Income Protection Insurance NZ.While the mainstay of the business has been providing insurance advice for those who wish to be covered in case of job loss due to ill health, he says there has been a dramatic increase in inquiries about redundancy insurance.
"Whenever there is a rumour of a redundancy in a business, our phones run red hot," he says. "But there's no way they'll get insurance once there is a rumour out there.
"All the insurance companies will be on to it already and there's no chance of them getting cover."
As well as these reactive inquiries, McCarthy says the past two to three months have seen a "massive spike" in interest from working people whose jobs are ostensibly secure. "Many people have huge mortgages and they are very concerned about what will happen if they lose their jobs - especially if they have a family to look after."
The latest unemployment figures, showing a nationwide reduction from 6.9 per cent to 6.2 per cent for the March quarter, have been touted by the Government as good news.
"It is a sign that the country is headed in the right direction," says Employment Minister Steven Joyce. "The Government is encouraging more investment right across the New Zealand economy and, as we know, nothing creates jobs and grows incomes better than business growth."
Catherine Beard agrees. "There has been a lot of manufacturing growth, especially in food and beverage manufacturing, over the past three months."
Is this a sign the tables are turning? Green Party co-leader Metiria Turei doesn't think so. "Unemployment figures are used inconsistently and the reality of what people are going through is hidden by rhetoric. There are many New Zealanders who are dependent on charity to survive."
There's no doubt some are doing it tough. Back at McGinty's Turf Bar in Huntly, local Tygre is musing about the future of her beloved town.
"There has already been a big change in this community since the last redundancies. There have been a lot of marriage break-ups, and a lot of families affected.
"The mine pays well and has raised the living standard of the people here. If anything happens to the mine, Huntly is going to become a ghost town."