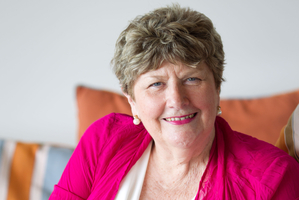 Education expert Dame Wendy Pye says it should be compulsory for all New Zealand primary schools to offer children a chance to learn Mandarin.
Dame Wendy said Prime Minister John Key's recent comments about the important relationship between New Zealand and China needed to be backed up with investment in helping Kiwi kids speak the language.
The flamboyant businesswoman's comments came this morning after she was made a Dame of the New Zealand Order of Merit for services to business and education during an investiture ceremony at Government House in Auckland.
"Asia is going to be a really big force. I've just formed a partnership with a major producer of Chinese language for Australia and ... they're looking at making Chinese the total alternative language in Australia," Dame Wendy said.
"We need to get our act together. New Zealand has to offer every primary school child an option, not necessarily compulsory, but as a second language we need to be learning Chinese and we need to embrace that as a trading partner.
"I'm going to make it happen. It's my new project."
Dame Wendy, the only living female member of the New Zealand Business Hall of Fame, is the managing director of the Wendy Pye Group of companies, one of the world's most successful education exporters.
Her company has produced more than 1800 titles, including books, television shows and internet material, and sold more than 218 million copies in more than 20 countries.
Dame Wendy said the next frontier in education was teaching Mandarin to many New Zealand children to reflect the country's growing relationship with Asia.
"Let's do it. Children need to ... just be given that option. I'm not necessarily saying there's anything wrong with learning Maori or other languages, I'm not suggesting that.
"What I'm suggesting is that we need to basically embrace ... [and] understand it."
Mr Key, during a recent trip to China, said he encouraged more students to consider learning Mandarin and said the argument that there were not enough teachers of the language in New Zealand was not "very strong".
Dame Wendy said the honour she received today was recognition of the contribution New Zealanders had made around the world.
She said teaching children to read was her most important achievement.
"From all over the world I got messages last night because people knew about the ceremony today. From the Republic of Iran to New York this morning, to people in England last night and to Hong Kong," Dame Wendy said.
"Isn't that wonderful?"
She wore a wide-brimmed fascinator, bold blue dress and gold-detailed jacket to accept her damehood, smiling widely as she posed with her sisters and her husband with her new honour.
"You never actually achieve anything without making a statement," she said.
Other recipients of Order of Merit honours today were:
Companions of the New Zealand Order of Merit
- John Buck, OBE, for services to the wine industry and the arts
- Dr Lester Levy, for services to health and education
Officers of the New Zealand Order of Merit
- John Slater, for services to the community
- Selina Webb, for services to health and education
Members of the New Zealand Order of Merit
- Stephen Bell, for services to youth
- Wendy Duff, for services to people with autism
- Dr Anthony Lanigan, for services to tertiary education and the community
The Queen's service Medal
- Raymond Baker, for services to the Jewish community and the racing industry
- Donald Brebner, for services to the community
- Miyoko Hammersley, for services as a hospital chaplain
- Jenifer Prattley, for services to the Royal NZSPCA
- Herakwal Singh Bains, for services to the Indian community
- Lynette Thornton, for services to the community
- APNZ