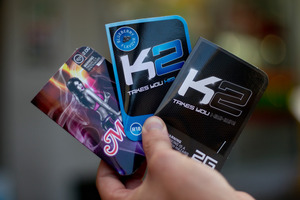 A single dairy may have sold $200,000 of synthetic drugs in three months, a select committee has heard, as users start stockpiling before legislation bans the most harmful psychoactive products in August.
Councils and health workers told MPs yesterday about the toll some synthetic cannabis products have had on their communities, as oral submissions on the Psychoactive Substances Bill began.
Some submitters wanted the bill - which would force manufacturers to prove their products were safe before they went on shelves - to ban sales from dairies and grocery stores.
Timaru Mayor Janie Annear said one dairy-owner had told her he had $225,000 worth of legal highs in stock before Christmas. When she returned three months later, he had $20,000 worth of products remaining.
Police had told her that dairies were routinely selling $10,000 to $15,000 of products a month as the legislation's deadline came closer.
The bill gave government power to restrict where the drugs were sold, but many submitters wanted it written into the primary legislation.
"Once upon a time the dairies used to be the family friend ... now they're our drug dealers," Ms Annear said.
Lawyer Shelley Eden, speaking on behalf of legal highs company Enjoi Products, said the company strongly supported the bill and felt that the drugs should face a similar regulatory regime to alcohol. The company wanted retailers such as dairies to be licensed before they could sell psychoactive substances.
Health workers and families who had been affected by synthetic cannabis told MPs they wanted a ban on all unsafe legal highs to kick in immediately in August.
The legislation allowed a transition period in which products which were pending approval or had been on sale for six months would be permitted.
Legal high makers and sellers said that if an instant ban was enforced, it would push users back to illegal drugs because so few synthetic drugs would be ready for sale.
Hempstore Aotearoa founder Chris Fowlie said it could take months or years to have products approved, and the $2 million cost could amount to "de facto prohibition".
The proposal
* Psychoactive substances bill
* Makes producers prove their drugs are safe before sale
* Bans sales to under-18s
* Gives government power to restrict where drugs are sold
* Creates agency to approve drugs
* Comes into force in August.
Read more: Legal highs take a dreadful toll