The first candidates are emerging for the Government's brainchild of privately run but state-funded schools. Geoff Cumming finds out who's putting their hands up and whether the case for change has even been proven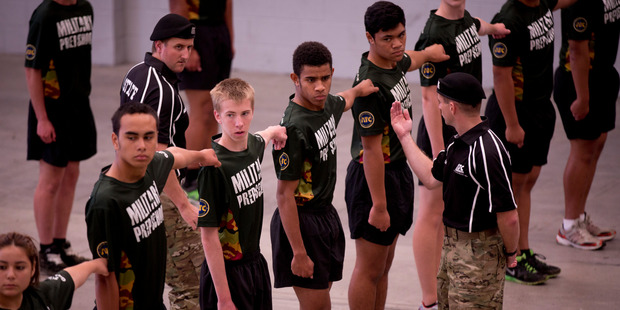 It's exam time for applicants hoping to run charter schools, the Act Party's competitive prod at state schools which are said to be failing too many Maori, Pacific and other "disadvantaged" kids.
With a law change to usher-in charter schools being driven through Parliament, most educationists, teacher and principal unions and Opposition MPs remain fiercely opposed. But with Maori Party support, the Government's bill - due for debate in Parliament next week - is expected to pass by a narrow margin and next year's first roll call of charter schools should be known by early July.
Funded to the same level as state schools, but with more freedom in their teaching, employment and hours of operation, critics say they will have unfair advantages, which could worsen the plight of the struggling schools whose pupils they will target.
And the evidence that they will do any better than mainstream state schools in getting more disadvantaged children to NCEA Level 2 - the Government's threshold target - is, at best, lukewarm.
Overseas experience with so-called charter schools suggests that they can work for some disadvantaged groups in the right circumstances, but the risks of failure are high. And that's the verdict of the Maxim Institute, a Christian-backed think-tank that supports the concept.
Then there's the premise on which charter schools is justified - the "long tail of under-achievement".
Though both camps in this hostile debate are guilty of hyperbole, it has become accepted wisdom that schools are churning out thousands of Maori, Pacific and low-income students bereft of meaningful qualifications, headed on a road to dole-bludging and violent crime.
What's ignored is the remarkable progress mainstream schools have made in closing the gaps between European and Maori/Pacific achievement in the eight years since NCEA was phased in. Level 2 NCEA is the benchmark qualification cited by the Government - the "foundation qualification which opens doors to a brighter and better future". NZQA records show that pass rates for Maori students who sit NCEA Level 2 in year 12 have improved from 55.1 per cent in 2004 to 74.7 per cent in 2011. Schools have made even greater strides with Pacific students, the Level 2 pass rate improving from 46.5 per cent to 69.1 per cent of those who sat. Pass rates for Pakeha have improved as well but the "attainment gap" has closed considerably - down by 10 points for Maori and 13 points for Pacific students.
Of course, the percentages are less impressive if you include Maori and Pacific students who don't sit NCEA, but the rate of improvement remains.
Try the numbers on Pacific community leader John Kotoisuva, who runs a trade training programme for secondary students in South Auckland, and his eyes roll. He would rather focus on unemployment - nearly 30 per cent of Pacific young adults aged 15-24; 21.5 per cent of all Pacific adults.
"For those who are engaging and doing well in the mainstream, fantastic - go for it. But it's our [Pacific] children who haven't got jobs and are sitting at home. They either contribute to resources or they are draining resources - and we don't want our kids to drain resources.
"It's costing our community, it's costing our children, it's costing the taxpayers that the mainstream has failed."
Kotoisuva founded the C-Me Mentoring Trust, which runs Trades At School to provide trade training and work experience for senior students in 17 secondary schools, working with the Manukau Institute of Technology and engineering firms. A school dropout, Kotoisuva completed an engineering apprenticeship, ran his own business and tutored for 10 years at AUT. He says Trades at School works "brilliantly" and the trust wants to apply its methods as a charter school for years 11-13.
Mainstream schools, he says, focus on NCEA as a qualification - getting credits "from wherever" rather than a job. Charter schools will be "free of all that bureaucratic stuff to make education more relevant to life after secondary school".
"The thing that's missing with these young people is purpose - 'why am I doing maths, why am I doing English?' The purpose must be personal - if they can visualise their future and say 'this is about me, I'm going to go out and do it because it means something to me'."
Thirty-five organisations have applied to become charter schools. Act stalwart Catherine Isaac, who heads the partnership schools working group, says proposals come from throughout the country and cover primary, middle and senior secondary schools. Some are highly innovative and backed by highly skilled people, many already working in education, she says.
While much is made of the freedoms charter schools will enjoy, the contractual process is tightly prescribed as the Ministry of Education seeks to avoid a repeat of the Novopay contract debacle. Key performance indicators cover student engagement and progression; procedures to intervene and terminate contracts are specified. But many aspects - such as the number of registered teachers - are a matter for negotiation.
C-Me was one of just four applicants (all not-for-profit trusts) willing to speak to the Weekend Herald (a fifth, Schoolsims, outlined its proposal in the Herald last week). One would use the rigours of military discipline to lift academic and physical performance; another would mix traditional Maori learning and nurturing concepts with hunting, fishing and farming skills; another favours teaching theories underpinned with Christian values.
All say they have something to offer which works for some students - they would fill niches.
Advance Training Academy, a military prep school, claims an 85 per cent success rate preparing students and school leavers mainly for careers in the Defence Force and police. General manager Nick Hyde plans a school that would emphasise discipline and physical fitness - mixed, he says, with empathy and a broader focus on jobs and tertiary studies.
"My programme doesn't work for everyone but nor does a secondary school work for all kids. The kids all have stories to tell - some pretty horrible. The kids that do come here succeed."
Isaac is keen to dispel the belief that just two schools will gain contracts next year, one in South Auckland and the other in Christchurch. They could be anywhere, as long as they are focused on disadvantaged communities, she says.
How many will depend on funding in the Budget and how risk-averse the Government is feeling.
The lesson from charter schools overseas is to proceed with tight reins. A research analysis by Maxim Institute's Steve Thomas - seeking to counter the horror stories coming from the education sector - found their impacts in England, Sweden and the United States had been decidedly mixed. The studies indicate charter schools can have a positive impact on low-income students and English as a second language pupils. But, Thomas found, charter schools were not producing better achievement - and achievement sometimes worsened - for ethnic minorities and special education pupils.
"The dominant, general trend evident from high quality studies is that charter schools have a negligible to small, negative impact on ethnic minority group pupils' achievement."
The studies also pointed to a potential negative impact on neighbouring schools.
"If regular state schools lose a lot of funding, or if they are left to struggle with educating poorer-performing or harder-to-teach pupils, then [their] performance can drop."
The opposition from the teaching sector has obvious self-interest - principals fearing a loss of resources, teachers the impacts on pay and job security. But there is genuine concern for what could happen to existing schools, the pupils they teach and the way kids are taught.
Labour will seek amendments when the bill comes back for debate on Tuesday, requiring charter schools to teach the curriculum, and forcing them to use registered teachers and give priority to children living within 3.2km of their school. Labour also wants charter schools covered by the Official Information Act.
"There is no question that charter schools will be bad for education," education spokesman Chris Hipkins said. "These [changes] only plaster over what is fundamentally bad legislation."
But if the first schools succeed, the clamour for more will grow: charter schools could trigger the biggest upheaval in state education since Tomorrow's Schools. And many argue they will be set up to succeed - funded to the same per pupil level as existing schools but able to restrict numbers and avoid many of the costs and constraints that state schools face.
Professor John O'Neill, of Massey University's education institute, says the funding would be better spent in struggling schools. "Charter schools in effect just cream the most motivated underachieving students from the existing school. They may provide benefits for those who attend but at a cost to the existing school."
Before she resigned late last year over differences with Education Minister Hekia Parata, secretary for education Lesley Longstone addressed the working group about experiences in her native England with academy and free schools, the British model of partnership schools. According to meeting notes posted on the working group's website, Longstone warned: "Plan how to deal with failure - they didn't close down failing academies quickly enough."
Longstone's analysis will alert those who fear next year's rollout will be the thin end of the wedge. The British programme started in the worst-performing areas, then schools in the middle started feeling threatened and wanted the same freedoms, she said. The programme was extended and now 40 per cent of secondary schools are academies."
Kotoisuva says existing schools should not worry too much - charter schools are just another option to help young people who are not engaging in state schools.
"It's not about taking over the whole mainstream - we need to keep it in proportion. The mainstream should focus on the children, not on the funding."
Kotoisuva stood for Parliament in 2005 for Destiny Church. Opponents, of course, seize on the merest hint of religion. Principals' Federation president Philip Harding even used last month's passage of the same-sex marriage law to declare that charter schools would open up "a whole new opportunity for discriminatory practices to flourish". Interest from religious groups in charter schools was "significant", Harding said.
Kotoisuva is no longer connected to the church but is annoyed by claims that groups pushing ideologies will be free to exploit the charter schools initiative.
"This is the community doing it. Mainstream is not doing it so we are standing up."
Whoever makes the grade can expect the examination to run for years to come.