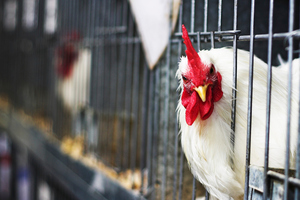 An animal welfare strategy released today will not see an end to sow cells or battery farming, an animal welfare group says.
The strategy, released by Minister for Primary Industries Nathan Guy, is a set of moral guidelines for the industry and is not enforceable.
It lists four main routes to improved animal welfare:
- Better planning to prevent animal welfare problems;
- Better animal husbandry, science and technology;
- Clear expectations and sanctions, with help for people to comply; and
- Measuring animal welfare performance.
The strategy statement says it "is not aiming to lift animal welfare standards immediately from their current settings, but there are some clear opportunities to improve animal welfare where compliance is falling below minimum standards."
Mr Guy said part of why New Zealand is so successful internationally is its world-leading reputation for animal welfare.
New Zealand earns around $20 billion a year by exporting animal products, such as meat, milk and wool.
Hans Kriek, the executive director of animal welfare group Save Animals From Exploitation, said cruel treatment of animals like battery farming and the use of sow cells would continue.
"It's [the strategy] just a piece of fluff - window dressing.
"This is really set up so that we can say that we're seen internationally to have a good animal welfare record."
He said in addition to the strategy, changes being made to the Animal Welfare Act were unlikely to improve the situation for animals.
"There's a very high chance that once the review is done, the new act will be detrimental to what we have currently."
Green Party animal welfare spokeswoman Mojo Mathers said the Ministry of Primary Industries should not monitor animal welfare, saying it was a conflict of interest because the Government department also protects the interests of the agricultural industry.
Ms Mathers called for an independent body to monitor animal welfare.
"The strategy is just a gutless statement that doesn't tackle the big issues; we need to close the loopholes in the law and create some independence for those enforcing the law."
She said animals like chickens locked in cages would continue to suffer.
"We need to stop letting producers act outside of the law by granting exemptions on economic grounds.
"Not complying with minimum standards of animal welfare is unacceptable; our new laws need to remove exemptions.
President of Federated Farmers Bruce Wills supported the strategy as a way for people to know their moral obligation to treat animals humanely.
President of Royal New Zealand SPCA Bob Kerridge said he believed the strategy was well-intended.
He said the true test would be the adoption of changes to legislation that reflected better animal welfare protection.
New Zealand has 16 codes of welfare that include minimum standards, guidance information, and recommended best practices.
The codes expand on the general obligations in the Animal Welfare Act that require all people who own or are in charge of animals to meet their animals' physical health and behavioural needs.
- APNZ