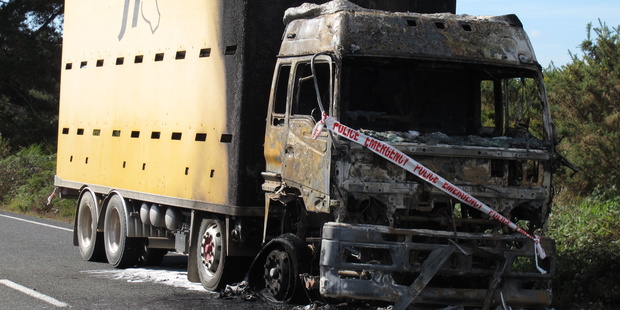 A Mid North stock-truck driver had to leap to safety when his cab burst into flames on State Highway 12 in the Far North.
The blaze yesterday left the 33-year-old from Kaikohe with minor burns to one hand and destroyed the cab.
It also closed the highway 2km west of the Taheke bridge, first as firefighters doused the flames and again as the wreck was removed.
No animals were on board at the time.
Senior Constable Jeff Cramp, of Rawene police, said the driver was heading to Kouto Pt, South Hokianga, to pick up cattle and take them to Te Kuiti.
Driving west out of Kaikohe, he twice pulled over to investigate an electrical burning smell but could find nothing.
About 10.30am, however, just past Taheke, smoke poured from the dashboard. By the time he stopped the truck and threw out his bag, the cab was burning fiercely and he had to jump to safety.
With no time to find a safe place to pull over, the blazing truck was left blocking the highway's westbound lane. The driver suffered a minor burn to one hand but did not require medical treatment.
With no cellphone coverage in the area and no landline at the nearest house, the driver then had to run along the road until he had enough reception to make a 111 call.
The highway was closed for 45 minutes while one appliance from Rawene Fire Brigade and two from Kaikohe doused the burning cab.
Mr Cramp said the driver was ``quite distraught''. He had looked after the truck as if it was his own.
A specialist tow truck from Whangarei was due to remove the burnt-out wreck yesterday afternoon.
Mr Cramp said it was fortunate no cattle were on board at the time.
``If there is, the only option you've got is to open up the back and let the stock out on to the road.''
The Rawene police officer said he had been to one such accident where spooked cattle had to be let out on to a highway. The result was carnage, he said.
Initial indications were that the cause of the fire was electrical.
For more articles from this region, go to Northern Advocate