Menzies Hallett has lived in freedom for 33 years. But time caught up with him yesterday when he was found guilty of murdering Rodney Tahu in 1979.

Jamie Morton examines the case.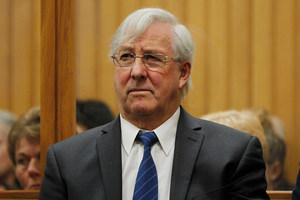 Special report: Cold case solved
The Turangi Shell station after Rodney Tahu was gunned down on the morning of August 16, 1979.
Minutes, hours, days and years - time has woven a constant thread through one of New Zealand's most intriguing and longest-running murder cold cases.
It was for decades that Menzies Hallett enjoyed freedom, living less than two hours from the family of the man he shot to death early one morning in 1979.
Originally, it took just days for police to arrest him for the murder - and only hours after he had pulled the trigger to confess to his wife.
Mere minutes - perhaps seconds - meant the difference between Rodney Tahu returning home safely to his family - and Hallett pulling into his service station, armed with a loaded revolver.
It would be 33 years, eight months and 14 days later that time would finally catch up with him.
Mr Tahu's whanau yesterday reacted with relief after a jury found Hallett, now 72, guilty of murder.
"I think now we are in a position where we can put some closure to this ... and we can all move on," family spokesman Colin Hair said outside the High Court at Rotorua yesterday.
The verdict has also brought "huge relief" to police - both those who arrested him one and a half years ago, and those whose original case against him failed.
Retired detective Rex Hawkins was involved in Hallett's arrest after an armed stand-off, and acted as a family liaison at the time.
"It's hugely pleasing for everybody who worked on the case that it has reached this stage."
Rodney Tahu, 31, was described as a non-drinking "gentle giant" who refereed Saturday morning rugby, loved hot rods and playing with his children.
He had never met a Taupo real estate agent named Menzies Reginald John Hallett.
Hallett, meanwhile, was going through "emotional turmoil".
His estranged wife Susan had left him and moved to Wellington, and their two daughters, aged 11 and 14, were caught in the middle.
The pair had met in the early 1960s and raised a family in Palmerston North, Hallett working in his father's sporting goods store before they all shifted to Taupo.
Hallett was keen on sailing - and guns.
There was one gun in particular - a .22 revolver of German origin, unusual for New Zealand - that Susan Sharpe remembered.
He had fired it from time to time and showed it to other gun enthusiasts, sometimes keeping it under his bed, other times under the seat of his vehicle.
Their marriage broke up in 1979 - Hallett moving into a bach at the back of his parents' house at 18 Kereru Place, Taupo.
He had planned to have both daughters to live with him in a house he had just bought, and was about to drive to Palmerston North to collect his youngest and a few items of furniture.
But Mrs Sharpe, who had custody and was buying her own house, had other ideas.
"I wrote him a letter and said it wasn't going to happen, as far as I was concerned," she told the court.
This letter, which arrived at Hallett's parents' place a few days later, would prove the "catalyst" for events to come.
On the night of August 15, 1979, Hallett had spoken about this letter to mates before he opened it.
Graham Bristow, who had shared a few drinks with him that night, remembered him being "fairly anxious" to get home to his parents' house where it was waiting for him.
When he finally read it, he walked across the lawn to his parents' home and woke his father, Walter Reginald Hallett, who had been asleep by the fire.
"I had never seen him in that condition before ... it was a very, very depressed person," Walter Hallett, since deceased, wrote in a statement.
"My son said 'either I will have to leave that night or the next evening to sort it out'."
He decided not to have dinner there, but across town with his then girlfriend, Margaret Calkin.
His mate Brett Wilson, a fellow member of the Taupo Yacht Club, arrived there first.
Hallett arrived around 10.30pm - and placed a couple of boxes of ammunition on the room divider behind, Mr Wilson told the trial.
Ms Calkin began preparing supper while Hallett sat down with Mr Wilson in front of the television.
A few minutes later, he turned to him, rolled up the back of his jersey and showed him the handle of a revolver, tucked into his waistbelt.
At about 11pm, Hallett picked up the phone and dialled his wife's number.
Mrs Sharpe, who had been asleep, recalled: "I told him to leave me alone, stop haranguing me, harassing me, but he wasn't in the frame of mind for conversation."
"He was drunk ... he said I was bribing the children, and he was going to come down to Palmerston and sort it out ... and then he just put the phone down ... it was very short and abrupt."
Shortly after the call, Ms Calkin walked Mr Wilson to the door, then turned back to the kitchen to find Hallett leaning on a bench.
He placed his arm around her, pointed to a ceramic pot stand hanging on the wall and asked her if she valued it.
Hallett drew his pistol and fired once - missing - and again - hitting the pot - leaving his girlfriend reeling.
"I remember there was the television there ... and I think I collapsed over the television ... I didn't know what was going on, I was in shock."
Hallett left, walking down the hallway and out the door - she followed, confused over what had made her partner so upset.
He stepped into his Falcon and set off - south.
Around the same time, 56km away, local Turangi constable Michael Sulivan was sharing a cup of coffee with his friend Rodney Tahu at the Shell station, about 100m down the road from his home.
When he left, Mr Tahu might have seen no one else arrive at the station on State Highway One until the clock turned past 1am and he set about closing up and activating the alarm.
He had just stepped into his prized Holden Bathurst Monaro to drive home when a pair of headlights belonging to a blue and white Ford Falcon 500 flashed on to the forecourt.
It was Hallett. He needed oil for his vehicle after noticing a rattle back up the highway.
Mrs Sharpe described what happened next.
The attendant - Mr Tahu - told Hallett the store was closed, having just set the alarm.
Hallett thought this was "ridiculous", telling him "it's only three minutes past one, please serve me ..." the man said, "I can't".
She said Hallett would later refer to this moment as his "flash point" - when all the frustration and anger that had built up inside him that night would come bursting out in violence.
He called Mr Tahu a "black bastard".
Mr Tahu took two or three steps toward him.
Hallett reached for his revolver and took aim as Mr Tahu ran off between the petrol pumps.
For the second time that night, his first shot missed - the bullet slamming into the side of the service station.
His second shot caught Mr Tahu, causing him to slump to the ground in pain.
Hallett walked to him, stood over him, took aim and fired again just centimetres from his victim's head - this time striking him near his left eye.
As Mrs Sharpe recalled: "He'd fired another shot and the man fell over saying, 'help, help, help,' and then he just walked over to him and shot him in the head."
Leaving Mr Tahu on the ground, his car door still open, Hallett turned around, walked back to his vehicle, and drove off, back the way he came.
He couldn't look back, she said.
Christopher Rowantree was woken by the gunshots. Now a police officer working with an organised crime taskforce in Australia, he described a "pregnant pause" between the blasts, and a man's cry for help that caused him to stand up and look down to the forecourt.
He could see a Ford Falcon 500 in the second lane between two pumps, and a man walking toward the car.
Mr Sulivan was among the first to the scene, finding his friend lying in a pool of blood on the concrete.
He ran back to his house and used his police car phone to call for an ambulance.
Ambulance officers arrived to find Mr Tahu unconscious and breathing irregularly.
A local doctor also attempted to treat him when he was rushed to Taumarunui Hospital, where he arrived at around 4.30am, now deeply unconscious and with low blood pressure.
Mr Tahu died with his wife beside him at 5.42am.
Eighteen minutes later, 323km away from the murder scene, Susan Sharpe heard her husband calling to her softly outside her Upland Rd, Wellington, apartment.
Hallett had driven north at first, worried someone might have spotted him, before turning south and taking a deviation through Feilding.
Mrs Sharpe let him inside.
Recalling him as amicable, calm and normal, they chatted about the children, her new job, the house she was going to buy; "just generalities".
She made him a coffee, and later placed a rug over him as he had a nap, while she busied herself getting ready to leave for work at 8am.
"I was ready to go, and I said to him, I had to go to work, would he please go, and he said to me, please don't go to work ... there's something I need to tell you."
She relented.
"He said, Sue, I've killed someone ... killed someone in Turangi."
She reacted with disbelief as her husband related what he had done, how he had been angry at her letter, how he had been on his way to "get the truth" from their daughter in Palmerston North - and how he was at "flash point".
"The service station man took the flash point of his anger."
Hallett even showed her the pistol he used, throwing it on to the bed.
He began plotting his next moves, his working plan to head to the South Island, get rid of his gun, and take his own life.
She was told not to tell the police, for the sake of their children.
"He guessed that he couldn't bear looking over his shoulder for the rest of his life, or being sent to a mental institution."
She was told he had made arrangements before he came down, including insurance, the sale of his house and boat, all of which would help raise the children.
She was to drive to Taupo to collect one of their daughters and bring her back, and he wrote her a cheque to pay for a hotel and car.
Eventually, Hallett walked back down to his car at the bottom of the street.
"He opened it up and showed me all the guns that were in there ... and then he went."
She would never see him again - and she did not honour his plea to keep his confession secret. Instead, she phoned her lawyer, and the police were alerted.
Hallett did not go ahead with his suicide plan in the South Island - he drove back north, filling his car at Palmerston North at 6.30pm that evening.
He carried on to Napier, where he visited friends and cashed a cheque.
Police were waiting for him in his parents' street when he arrived back in Taupo at around 2.30am.
Hallett's car did not stop - he made a u-turn and set off up the Napier-Taupo Rd, followed by police.
Hallett turned off the highway and travelled up Lochinvar Rd for several kilometres, before turning around and stopping at an office block.
Over the next few hours, Rex Hawkins and fellow detective Doug Scott appealed to Hallett to come out with his hands up, but he stayed in his car.
Mr Hawkins told the Herald how he kept moving his car about every five minutes, using his headlights "to see if anybody was coming up on him".
Eventually a shotgun blast rang out - and armed offenders squad members pounced on him "within seconds".
They found him with a gunshot wound to his upper right chest and arm.
In hospital that day, he was charged with a firearms offence related to the shotgun, and two days later, another charge was laid over the pistol shots he fired into his girlfriend's kitchen.
Police finally charged him with murder on August 28.
Two months later, Hallett appeared before a magistrate on the charges while police presented their evidence against him.
But they could not use his wife's crucial testimony - laws at the time preventing her being called as a witness - and the magistrate ruled there was not enough evidence to put Hallett to trial.
Convicted on the firearms offences but discharged on the count of murder, Hallett walked free.
Hallett left Taupo soon after his discharge - but did not keep quiet about what he had got away with.
Hallett's former flatmate and good friend since the mid 1980s Warwick Nunns told the Herald it was probably early 1986 that his friend revealed his dark secret from the past. "It wasn't presented as an admission it was more like an unburdening."
Beverley Emmerson, who gave evidence at the trial, met Hallett through a personal classified advertisement in 1987, and the two began a relationship.
Two months later, he told her he had "been involved in this murder and he had shot someone" but it had already been "dealt with" by police.
She immediately ended the relationship.
Hallett was living in a quiet Rotorua street when the law caught up with him, late in 2011.
Police, offered a fresh chance at Hallett after changes to the Evidence Act enabled Mrs Sharpe to give her vital evidence, approached him at a local bakery.
Tahu family spokesman Colin Hair said yesterday: "I think the hardest part is we've always known who was responsible for this, as I said, it was an anomaly in the law that allowed it to go by, and I've gotta say, on behalf of the whole family, a huge thanks to the police for their tenacious work ... and not just the work the current team have done, but the original outstanding work that was done."


The Rodney Tahu case
The victim: Rodney Tahu
Shot dead by Menzies Hallett at the Turangi service station where he worked in 1979.
A family man, Saturday morning rugby referee, keen trout fisherman and hot rod enthusiast, Mr Tahu was also well known and liked within his small community.
In the days before he died, he helped police track down the owner of a stolen car.
A neighbour said at the time of his death: "Whether his children were playing marbles or flying kites, he was always there with them."
The killer: Menzies Reginald John Hallett
Found guilty of murdering Rodney Tahu at a service station in Turangi in 1979.
A Taupo real estate agent at the time, he had been angered at a letter from his estranged wife denying him custody of their children, and later told her his shooting Mr Tahu had been the "flash point" of his frustration.
After escaping conviction for the original murder, he was arrested again after a law change enabled his former wife to give evidence against him.
The 72-year-old pensioner was approached by police in a Rotorua bakery in late 2011 - reportedly while buying a corned-beef sandwich.
The star witness: Susan Sharpe
Menzies Hallett's estranged wife at the time he killed Rodney Tahu, she listened to Hallett give a detailed account of the murder just hours after it happened. But laws at the time meant she could not testify against him, weakening the Crown's unsuccessful original case against Hallett. Reforms to the Evidence Act overturning this led police to reopen the 33-year-old file last year.