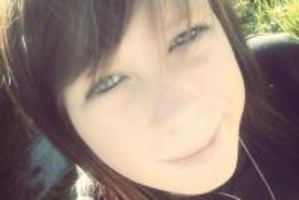 Police have appealed for information from anyone driving in the area of Bainesse Rd at Rangiotu, near Palmerston North, where 16-year-old Courtney Hagley crashed and died on Monday morning.
The teenager and her boyfriend, Rex Stanbra, 16, were less than a kilometre from their destination when Courtney is believed to have swerved to avoid another vehicle and crashed into a tree shortly after 9am.
Rex rushed desperately to the closest house to alert an ambulance, but Courtney was pronounced dead at the scene.
Police this afternoon made a public appeal for assistance in their investigation.
Sergeant John May, the officer in charge at Foxton Police, said anyone who was in the Rangiotu area on Monday morning may have information that could help police.
"We have spoken to a number of people already but we still want to hear from anyone who may have any information that will help us with our investigation,'' Mr May said.
"We are especially interested in any vehicles that were travelling on the road or in the area at the time of the crash.
"You may have seen something, so please don't discount it.''
Anyone with information should contact Foxton Police on 06 363 8084 or Crimestoppers on 0800 555 111.
- APNZ