Retiring neuromuscular-disorders expert says treating the famous and non-famous exactly alike 'a Kiwi thing'.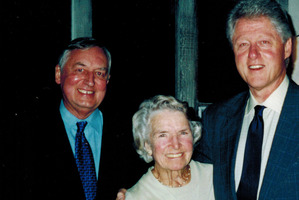 Dr David Campion always treated every one of his patients the same, whether they were a Hollywood star, rock star, royalty or a former US President.
He believes the trait belongs to his New Zealand roots, despite tending neurological disorders in Hollywood for the past 41 years.
Dr Campion, uncle of famed Kiwi director Jane Campion, was so widely known for treating stars that paparazzi photographers would plant themselves on the street outside of his Beverly Hills office in order to capture a fleeting moment of a departing or arriving celebrity.
"I've had a very, very good life with a lot of interesting patients. But I treat them all alike.
"People come in with all their security and everything, but I just tell them to wait like everyone else. Treat everybody exactly alike, that's quite a New Zealand thing. I think New Zealanders are brought up to be fair," he told the Herald.
After an extensive career during which he treated more than 150,000 patients, the 78-year-old retired on Friday.
Born in Wellington, Dr Campion is a graduate of Otago Medical School and has additional degrees in pharmacology and biophysics.
During a research fellowship he held at Auckland University, the University of Los Angeles took interest in his work and offered him a fellowship. He soon became a pioneer in a special branch of medicine that tested and recognised changes in damaged or diseased nerves and muscles.
Dr Campion always took pride in treating everyone the same, though some people of importance made doing that more difficult than others.
"One was a Saudi Arabian princess and of course no one's allowed to see her body except for her husband, so a guard came in and he was facing away so he couldn't see what I was doing but he had a sword. I thought, 'S**t, if I do something wrong I'm going to get my head cut off'."
He also treated Elizabeth Taylor, Richard Burton and Ronald Reagan.
Dr Campion said he also had many other recognisable faces in his waiting room, but couldn't reveal who because they're still alive. He did let slip that he had treated Julie Andrews.
"I saw the actress who was Mary Poppins [Andrews] and she went out into the waiting room and there was a Mexican guy there and he suddenly stood up and said, 'You're Mary Poppins', and she was so gracious and nice - that's what my life has been, it's just marvellous."
When he was asked by Hollywood's finest to clear a waiting room, he would refuse. But more often than not, Dr Campion wouldn't recognise a famous movie or television star.
There were times he'd approach a celebrity because they hadn't paid their bill on time and ask them if they were having financial troubles. One of the embarrassed nurses would scold him immediately.
"Didn't you know who that was? He could buy this entire block in Beverly Hills," they told him.
Over the past 15 years, Dr Campion commuted between his rural home outside of Portland, Oregon, to Los Angeles. He chose to live in Oregon because it reminded him of New Zealand, which he still visits once every year.
"After having travelled more than a million miles on Alaska Airlines between Portland and Los Angeles, the wear and tear on my body has been too much to take."
Dr David Campion
Specialty: Electrodiagnostic medicine.
Education: BMedSc, University of New Zealand, New Zealand MB, ChB, University of New Zealand, New Zealand MD, University of Otago, New Zealand.
•Born in Wellington.
•Awarded a National Institute of Health fellowship doing research in nephrology and muscle electrophysiology at Southwestern Medical School in Dallas, Texas.
•Dr Campion trained in neuromuscular diseases and was recruited to the faculty at UCLA, where he directed the Muscular Dystrophy Clinic. After training in electrodiagnostic medicine at the Mayo Clinic in Rochester, Minnesota, he was director of Electromyography Service at UCLA. There, he trained neurology residents and examined hundreds of patients with all forms of common and rare neuromuscular problems.