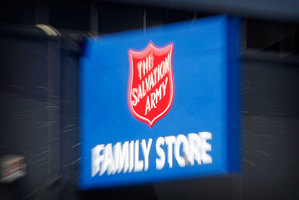 The Salvation Army may be forced to cut 20 budget advisor jobs when a temporary fund ends this winter.
Funding from the Community Response Fund, set up in response to the recession, is set to end in July.
Twenty budget advisor jobs created through the temporary funding were at risk, the Salvation Army said.
Demand for social services had risen dramatically, with food parcel distribution up 76 per cent and budget services up 187 per cent since the start of the recession in 2008.
"This demand has largely remained constant for the past few years and has brought a growing number of working people to our door for the first time."
The Salvation Army said with the end of the fund, this year's Red Shield Appeal, starting tomorrow would be its most important in decades.
The demand for food parcels had also increased - up 34.5 per cent in south Auckland on a year ago, up 28.6 per cent in west Auckland, 26 per cent in Whangarei and 31.5 per cent in Dunedin.
- APNZ