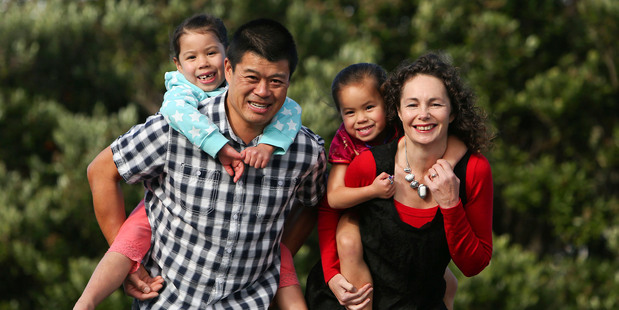 Juliet O'Connor gained much more than a husband when she married third-generation Chinese-New Zealander Scott Young.
She inherited a large, welcoming extended family, many of whom live in the same Wellington suburb. She quickly assimilated into Wellington's thriving Chinese community.
Now Juliet Young, she spends most winter weekends at the Wellington Chinese Sports and Cultural Centre with Scott and daughters Lauren, 7, and Brodie, 4. She's often in the minority but she feels completely at home.
Young's daughters share her dark hair and eyes but while her hair is curly, the girls' hair is straight. Lauren looks more like her mum, Brodie like her dad, but both are distinctly Asian and identify as Chinese.
"Sometimes they look at me and they know I'm not Chinese and they wonder what I am," Young says with a laugh.
Her life is a world away from her childhood in predominantly Pakeha Gore; her secondary school had only a handful of non-European children on the roll.
"Then you grow up and move away and become exposed to all sorts of ethnicities," Young says.
"I think New Zealand is ethnically diverse but if you live in rural Southland, it's not.
"Wellington, which is where I've spent probably a larger part of my life now, is transient, open and ethnically diverse and becoming more so. That's only good."
Young also finds herself in the minority at work with the Open Wananga, the at-home learning arm of tertiary institution Te Wananga O Aotearoa. Meetings start with a karakia and her work involves editing and writing about New Zealand's history from a Maori perspective - something she missed out on at school in Gore.
"It concerns me that I didn't learn about that in my schooling. We learned about Captain Cook but we didn't learn about the other side," Young says. "Forme, it's been a real journey learning about New Zealand in another way."