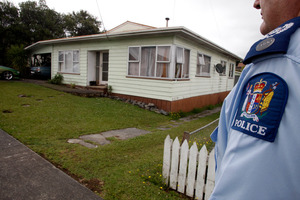 A man has been jailed for his role in a Christmas Day attack on two police officers in Dargaville.
Stewart Anthony Tahere, 27, pleaded guilty yesterday in Dargaville District Court to charges of assaulting a police officer and escaping police custody.
The court heard the officers had visited a Tirarau St address in response to a wilful damage complaint.
Tahere allegedly became aggressive with one officer who was trying to arrest a 20-year-old at the home.
The officer was circled and he and another who came to help were attacked.
One officer was knocked out and the second was kicked in the head while protecting his colleague.
It is alleged a woman used a brick as a weapon, and also tried to shoot an officer with his own Taser.
Judge Greg Davis sentenced Tahere to 13 months in prison for the attack and an extra six months for dangerous driving and driving while disqualified.
Crown prosecutor David Stevens and Tahere's lawyer John Day agreed that while Tahere had not actually physically assaulted the officer, he had incited the attack which hospitalised the two officers.
Mr Day said Tahere knew he had done wrong and was very remorseful.
He handed up letters of apology from the defendant and argued that Tahere had no previous convictions for violence.
Judge Davis said he accepted that Tahere didn't lay a hand on the officers but said his actions caused others to set on the two constables.
The judge also noted the offending was aggravated by the fact Tahere was already on bail on the driving charges and for wilful damage of a police cell when the attack occurred.
For more articles from this region, go to Northern Advocate