A century after WWI, a couple piece together the remarkable history of their forebears and discover the amazing account of how one of them escaped not once, but twice, from the Germans.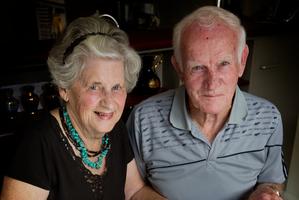 The making of one family's Anzac sacrifice of dozens of its young men to the mud, barbed wire and trenches of the Western Front was 100 years in the discovery.
It's only now, almost a century on from the beginning of that war, that the Hansen family have begun to unravel just how many of their own fought in WWI.
Stan Hansen, 80, and his wife Kath have spent the last two years piecing together the stories of 42 of their relations who served in the New Zealand Expeditionary or the Australian Imperial Forces. Fourteen never returned home.
Mrs Hansen, who writes family histories for the wider whanau, has done most of the gruntwork tracking down records and photos. What started as a project about her husband's father, Herbert Reginald Hansen, avalanched into something different once she saw how many of his relations turned up in archives.
History puts the family in New Zealand long before these islands became a colony. The Hansens came out from Great Britain with the express intent of settling after lobbying by the Reverend Samuel Marsden of the Church Missionary Society for a mission station.
Captain Thomas Hansen commanded the Active, which arrived in Oihi at the Bay of Islands in 1814. Onboard were his wife, son, daughter, missionaries including Marsden, and ex-convicts. Hongi Hika, the Ngapuhi rangatira, was also a passenger.
His son, Thomas, and daughter Hannah King had 23 children between them and are buried with their spouses on a hill in that little bay.
A century on from that landfall, the sea captain's family had expanded at such a rate that 32 cousins and second cousins set sail for Europe.
Ten more came from families who had sailed west to build lives in Australia and enlisted there.
But a generation of men came home who refused to speak of the war. For many years only small details of Herbert Hansen's service, such as the date he left for Egypt, April 1, 1916, were known.
Mr Hansen says his father, while not necessarily anti-war, wouldn't discuss it and he never joined the RSA. As a result his children were only "vaguely aware" he'd been a prisoner of war.
What he does remember is the laboured wheezing which would stay with his father until he died in 1951, aged 53.
"He was gassed as was his brother, and it gets into your lungs. All I remember of my father is he had this cough ... he'd just cough, cough, cough."
So they were stunned when they found out that Herbert, also known as Bert, escaped from his German captors twice - believed to be the only New Zealand soldier to have done so.
Finding him describe in his own words the seven-month cycle of capture, escape, capture and escape in an article he'd had published in 1919 was priceless.
He was captured in the northeast of France, in Meteren on April 16, 1918, during the German Spring Offensive. Aged 22 at the time, he describes the virtual starvation, forced labour and sickening conditions he found himself in.
"164 English and 218 Portuguese were put down into a cellar below ground, in a destroyed building ... There were two inches of water on the floor ... The only means of ventilation were covered up at night with pieces of iron, as a measure against aircraft attack ... It was impossible to get rid of the water, and the men had either to lie on pieces of broken boards half in the water, or not lie down at all ...
"When it was very wet and miserable, I have heard the men crying out that they wished they were dead."
At the end of three weeks just 32 English were left - the rest had gone to hospital or died.
At the fifth prison in Leuze he was told "any man attempting to escape would be shot without challenge".
Regardless, three nights later on June 5 he picked the lock of a side door, which was locked and bolted after him by an Australian.
Travelling by night on foot he made it to Brussels and was helped by a Catholic priest and a Belgian woman. He was given money and a contact's name in Liege - when he arrived, the contact had been arrested. The plan had been to get to Holland and while that didn't change he had to find another way in. He travelled to Vise, in Belgium where he thought he'd have more luck but was arrested by a passing German patrol.
He was taken to Liege and then on to the Fortress de la Chartreuse where he remained for 55 days. He was told he would be sent to Germany in all likelihood to be shot as a spy.
He writes of November 5, day 56: "... We were taken to the station at Liege ... with an armed guard of seven soldiers and one corporal. In spite of the guard I managed to effect my escape by hiding behind an empty wagon on the line whilst the sentries were watching a train come in. I then crossed the station yard and climbed over an eight-foot wall into the street."
He was sheltered by the Belgian Underground until the Armistice took effect on November 11, 1918.
The article's title was German Ill-Treatment - Experience of a Plucky Prisoner of War. But plucky is a severe underestimation of the soldier's determination and courage.
He was a man who fought to live, Mr Hansen said.