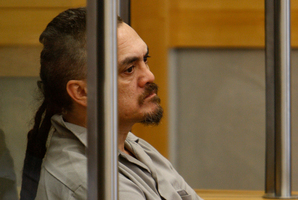 A woman told a jury that her partner, who is accused of causing the death of his stepfather, punched her because he thought she slept with the now-deceased.
Angela Joseph said she told her partner of nine years Patrick Tepana that he didn't need to be jealous of her because nothing was going on between her and Christopher Edwards.
Ms Joseph was giving evidence in the High Court at Whangarei yesterday against Tepana, 44, who's facing a charge of manslaughter over the death of Mr Edwards, 61, at Te Kopuru early last year.
The Crown alleges that Tepana punched Mr Edwards three to five times during a drinking session because he thought his stepfather had "stirred her up".
Ms Joseph said Tepana was violent, dominating and jealous when under the influence of liquor but when he was sober, she "couldn't ask for a better partner".
On Christmas Eve in 2011 when she came to Te Kopuru, Ms Joseph said Tepana punched her after he became drunk and started getting violent.
On why she was punched, she said Tepana became jealous about Mr Edwards.
Nothing at all was going on between her and Mr Edwards, she said.
Ms Joseph said she had never seen Tepana hit his stepfather prior to the latter's death.
On January 3, 2012, she said Tepana argued with her again over Mr Edwards and said if she ever did anything with Mr Edwards, he would kill her or his stepfather.
A day later, Ms Joseph said she returned home after being tired of his drinking and anger.
When asked by defence lawyer Chris Muston about the extent of drinking by Tepana and other members of his family, she said they "indulged" in alcohol.
Ms Joseph said she didn't actually think Tepana was jealous of either her or Mr Edwards but would rage when he was drunk.
Following the alleged beating, Mr Edwards was taken to Dargaville Hospital then to Whangarei, where a scan showed a large subdural hematoma - or collection of blood - on the surface of the brain, beneath the skull.
He was flown to the Auckland City Hospital. However, he died on January 13, 2012 after his life support was switched off.
The case continues this week.
For more articles from this region, go to Northern Advocate