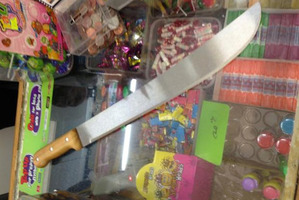 A machete, mallet and large wooden sticks were seized from dairy owners arming themselves against robbers targeting synthetic cannabis, Dunedin police allege.
Officers visited dairies yesterday to give owners crime prevention advice after two aggravated robberies targeting synthetic cannabis and cash in as many weeks.
That advice included having adequate CCTV, increasing staff numbers at night, employing security guards, reviewing opening hours and asking them to remove synthetic cannabis from their shelves.
Proactive Policing Team Sergeant Chris McLellan said those visits revealed four retailers of synthetic cannabis products have taken to "arming themselves with weapons".
Weapons included a machete, lengths of wood, and a mallet. They have been removed and the dairy owners formally warned.
"If (the dairy owners) are so concerned about this product then take it off the shelves," he said.
In the case of the machete it was located behind the counter beside a box of synthetic cannabis "so it could be used at any time".
"All of the outlets spoken to said they had them there for their own protection."
A dairy owner who was the victim of a recent aggravated robbery sold synthetic cannabis to a person while police were speaking to him about the danger of selling the product, Mr McLellan said.
Police had expressed dissatisfaction about owners arming themselves, highlighting repercussions and likely consequences should someone be hurt.
By arming themselves dairy owners were endangering lives, including their own, staff, members of the public and emergency services who came to assist.
There have been seven aggravated robberies targeting synthetic cannabis in the Southern District during the past two years.
The majority were in the Dunedin area, including the Willowbank and Balmoral dairies over the last fortnight.
Only the Willowbank Dairy case remains unresolved - a 26-year-old man handed himself into police yesterday in connection with the aggravated robbery of the Balmoral Dairy.
The owner of the South Dunedin shop, who declined to be named, said he had a camera system installed but maintained he did not arm himself
During his five years at the Hillside Rd-based store it been targeted in two aggravated robberies, and it was money not synthetic cannabis that people wanted.
Mr McLellan said the number of retailers selling synthetic cannabis had reduced to nine following media publicity last year, but was back up to about 20.