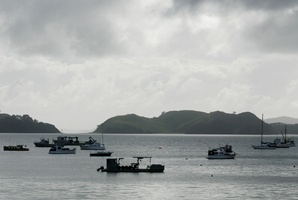 Response crews are trying to contain diesel, leaking from a stricken leisure boat on the Coromandel Peninsula.
Owners of the 50-foot vessel discovered the leak this morning while attached to a mooring in Wyuna Bay and alerted the harbourmaster.
The sinking boat is partially submerged.
An oil response team from the Waikato Regional Council is working to contain the leak using sorbent booms.
"At 3pm we've got a diver going into the water and he'll be looking for the source of the leak and for a way to plug the leak so we can cease the flow of diesel into the water,' said council spokeswoman Wendy Valois. (EDS: correct)
At least 300 litres of diesel is believed to be on board and a small amount has washed up on shore.
Staff are assessing how it can be removed and while the risk of contamination is minimal, people should be cautious if harvesting shellfish nearby and not eat anything with a diesel smell, said council senior regional hazards advisor Dave Lovatt.
Three marine farms operating in the harbour have been contacted by the council.
Staff are also liaising with the vessel's owner on a salvage plan.
It is likely the boat will remain in the water until at least next week, with the first priority extracting the remaining fuel," Mr Lovatt said.
- APNZ