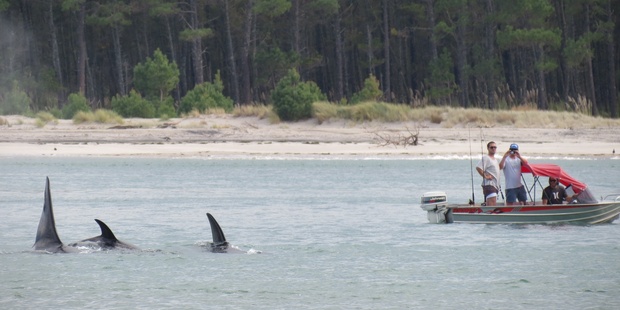 A large pod of orca frolicked in Tauranga Harbour and dined on stingray - a delectable delight similar to chocolate for humans, experts say.
Hundreds of people watched in delight as the pod of at least 20 orca fed on stingray and food in the channel between Matakana Island and the Mauao base track yesterday.
The orca, first seen about midday, swam into Tauranga Harbour and forced hundreds of brown-and-white-spotted stingrays close to shore. They then fed on the stingrays.
Onlookers, many with cameras, lined the base track on the Pilot Bay side of Mauao for hours and watched the orca feed and mothers feeding their calves.
Others took photographs of the masses of stingray which had taken refuge close to shore.
Matua resident Camilla Abi was in awe.
"How cool is this? It's just so unbelievable. I have never seen anything like it in my life."
The size of the pod impressed marine expert Jo Halliday, who said it was an uncommon sight to see such a large orca group.
"The population of orca is very small considering the size of New Zealand's coastline. I would say there are around 200 orca, which is a tiny population ... so to see so many in one group is a very special sight."
Ms Halliday, who co-founded Whale Rescue with orca specialist, Dr Ingrid Visser, said the harbour provided a tasty treat for orca. She said stingray was a treat that could be compared to chocolate for humans.
For more articles from this region, go to Bay of Plenty Times