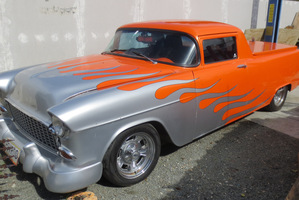 Police have seized a launch, luxury cars, firearms and a stash of cash in a crack-down on an alleged Northland methamphetamine operation.
Officers from the Northland police organised crime unit and the armed offenders squad swooped on a property in Pataua South, east of Whangarei, in a joint operation with the police financial crime group's Auckland-based asset recovery unit.
They also searched a 10.3m launch berthed at Parua Bay during the two-day operation over Wednesday and Thursday this week.
Police seized $15,000 in cash and a number of items including the launch, a BMW car, two Harley Davidson motorcycles, a 1955 Chevrolet hotrod, jewellery, fishing equipment and four high-power air rifles.
A 44-year-old man and a 39-year-old woman were arrested during the search.
The couple appeared in Whangarei District Court charged with possessing equipment for the manufacture of methamphetamine and were bailed to appear again on May 9.
Further charges were likely after forensic scientists had examined a number of other items seized during the search, police said.
Northland police acting criminal investigations manager Detective Senior Sergeant Kevin Burke said the arrest and seizure was an excellent result.
"Any person making money out of drugs puts the community at risk, particularly youth."
Mr Burke said the Criminal Proceeds (Recovery) Act 2009, under which the assets were seized, was one of the tools police were using to dismantle illicit drug operations.
- APNZ