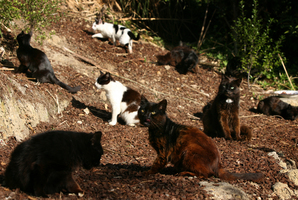 Fur is flying over an offensive email sent by Far North Mayor Wayne Brown to a United States cat lover calling her a "total dickhead" and saying her country should stop killing Iraqis and Afghans.
Mr Brown - along with every Far North district councillor and member of the Bay of Islands-Whangaroa Community Board - has been bombarded with hundred of emails from around the world after cat lovers' websites called on supporters to make their views known on a proposal to remove a stray cat colony in Paihia.
Some of the websites behind the email campaign have threatened a tourism boycott of Paihia and New Zealand.
Mr Brown's pithy reply was sent to Oregon cat owner Deborah Henry. Her email was a copy-and-paste from a "Cats to Stay Army" Facebook page with a few comments of her own, including "Shame on you for practising such over-reaching governmental interference in something that does no harm, but shows compassion and kindness".
Mr Brown's emailed response was: "You are a total dickhead, stop killing iraqis and afghans [sic] these are just bird-eating cats and your stupid emails are only guaranteeing that the cats will all end up in asian rice stews."
Another email from the mayor to a cat colony supporter read: "This is a decision of the community board, not council. If your cat-loving mates really wanted to change things instead of threatening not to come perhaps they should have threatened to come. I notice most come from US which quite happily attacks and kills humans all over the planet."
Mr Brown has acknowledged calling someone a dickhead, but claims it was in response to another email from a different correspondent's "fairly aggressive" email containing an obscene remark.
Many writers seemed to believe he was responsible for the cat colony decision, even though he kept pointing out it was up to the community board. People offended by his emails had no sense of perspective or humour, he said.
Mrs Henry told the Advocate she was initially "astonished and very shocked" by Mr Brown's email.
"Then I got enraged. However, I refuse to step down to his level. I find it interesting that he demands that we stop killing people in what is a very unpopular war in our country, but it's acceptable for him to think cats are expendable."
At least two community board members subjected to a barrage of hundreds of emails, some of them threatening and abusive, have complained to police.
For more articles from this region, go to Northern Advocate